Jon boats are versatile pocket-friendly shallow water boats that can be used for a wide range of purposes. As a inland waterway utility vessel Jon boats are second to none. They are also great for camping, duck hunting and fishing. In this article we will look at the best Jon boat for fishing and show you why Jons are the best bowfishing boat on the market.
Overview Of The Best Jon Boats For Fishing And Bowfishing
What is the best Jon boat for fishing?
The best Jon boat for fishing will depend on several factors from marine environment it is used in to the number of crew numbers onboard. A flat-bottomed Jon is great for freshwater fishing in shallow inland areas while a semi-v Jon is better for more turbulent waters.
A Jon with a modified shooting platform attached is best for bowfishing.
Why Jon boats are a great boat choice for fishing
Jon boats are an iconic lightweight watercraft that can get you to those fishing spots where you can enjoy the very best game fishing, either alone or with friends.
But which Jon boat is the best for fishing? Well, to answer that question we need to look at the two different types of Jon boat.
The 2 types of Jon boat and how they are best used
Jon boats come in two basic types:
Flat-bottomed Jon boat.
Semi-v Jon boat.
The semi-v Jon boat, sometimes called a modified semi-v Jon boat or a mod-v Jon boat, was designed to allow boaters to navigate waters that are too challenging for the traditional flat-bottomed Jon boat.
To learn more about the differences between a additional flat-bottomed Jon boat and a semi-v Jon read this.
The importance of the boat's shallow draft for fishing
Both types of Jon have a shallow draft but the flat-bottomed Jon can access much shallower water than its younger brother.
Unfortunately, this ability to navigate waters that are only a few inches deep make the flat-bottomed Jon a bad choice for use in choppy water.
The semi-v Jon boat was designed to allow Jon boat users to navigate more challenging waters.
This added versatility comes at a cost though; the semi-v may have a shallow draft but it cannot access the type of extremely shallow waters that a flat-bottomed Jon boat can.
So why is the shallow draft of a Jon boat good for fishing?
The shallow draft of a Jon boat means it can easily access areas for shallow water fishing that other boats could not get to.
It is essential the boat you use has a shallow draft when bowfishing as this type of fishing is done in shallow waters.
The best bowfishing boats will have a very shallow draft – a Jon boat has an extremely shallow draft being able to navigate waters that are inly a few inches deep.
If you want a deeper understanding of shallow draft read this.
The best Jon boats offer exceptional stability & versatile customization
A Jon boat also offers the angler exceptionally stability on calm inland waters.
This mean anglers anglers can easily and safely stand on the boat to cast-off without the boat rocking.
Its large open deck area, and easily customizable hull deign, means a Jon boat can be adapted easily to hold rods and carry fishing equipment.
A Jon boat lends itself so well to customization that it can easily be converted into a bass boat.
5 Reasons Why A Jon Is The Best Choice For An Angler
Below are a number of features and benefits that make this versatile type of boat a great choice for your next fishing trip:
The level flat bottom hull offers exceptional stability on calm water. An angler can cast-off and move about the boat with ease.
The shallow draft allows for cruising shallow water rivers, creeks, ponds and lakes where it can glide over obstructions without suffering hull damage.
Jon boats also lend themselves well to upgrades and customization projects that can improve your angling decking and pedestal seating.
Available customizations include adding a shooting deck for bowfishing.
A range of cost-effective models are available, meaning you have the opportunity to own a Jon boat at a price point that is comfortable for you.
5 Reasons Why Jons Are The Best Bowfishing Boats
Although many people who enjoy bowfishing will use a standard Jon boat, die-hard boat archers prefer a boat with an elevated shooting platform attached.
Below are a number of features and benefits that make a Jon boat perfect for bowfishing.
The shallow draft gives a Jon easy access to shallow water fishing areas.
The flat bottom hull makes the boat exceptionally stable even when moving about on it and shooting from it.
A Jon boat can be bought with or, easily modified to include, a raised shooting deck.
Jon boats are easily customized for the archer.
Jons are extremely cost effective.
Bowfishing modifications are fairly easy to complete on a Jon boat.
As a DIY project a Jon boat owner can add a shooting deck to any standard Jon or semi-v Jon.
However, new Jon boats complete with shooting platform are also available to buy new from manufacturers and local dealers.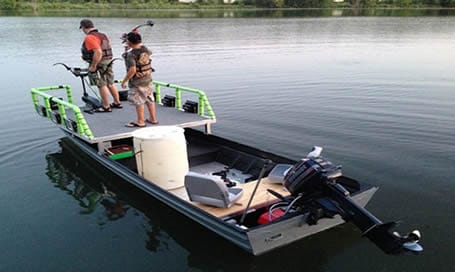 Jon boats that has been modified with a shooting platform makes best bowfishing boats due to their superior stability in shallow water.
How To Choose The Best Jon Boat For Your Fishing Trips
Your choice of Jon boat for fishing will depend upon needs your needs on the water.
Obviously if you intend to fish is shallow waters you will need a flat-bottomed Jon while fishing in more challenging waters would require a semi-v model.
Whichever Jon you choose it should have adequate capacity for your catch, tackle, gear, and other anglers you may have onboard.
This will determine the length and width of the Jon boat that will be suitable.
With bowfishing less space is needed on the boat but due to the nature of the activity a large Jon boat is preferable so you have enough deck space, or platform space, to position yourself for a good shot.
An additional consideration is the transport of your boat (see how to load a boat on trailer).
You also need to be aware of the ease with which it can be launched and retrieved, especially if you are doing this alone (as we demonstrated how to do safely and effectively here).
There are as many different types of fishing as there are anglers and your Jon boat can and should be appropriately rigged for the type of fishing you plan to engage in.
Read on for our selection of the best Jon boats for fishing on the market today.
The best Jon boats for solo fishing aren't always the most expensive
Our pick for best fishing Jon boat for solo, or two-person, use is the American 12 by Sun Dolphin.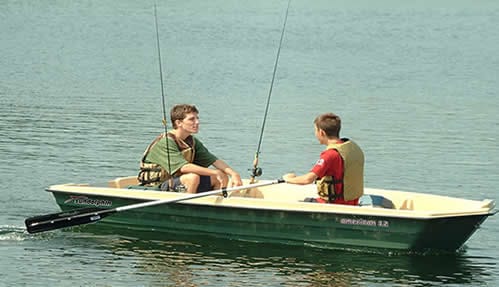 Recreational boating experts Sun Dolphin are best known for their incredibly good kayaks so we were a little surprised to find that they have manufactured a really good lightweight Jon boat.
This lightweight boat weighs in at just 110lbs that makes for easy handling on any solo fishing trip.
The flat-bottom design gives the boat a shallow draft for accessing shallow creeks and inland waterways and, of course, it has exceptional stability.
It has a rugged UV-stabilized Fortiflex high density polyethylene (HDPE ) roomy deck with bench seating.
Its 12 feet length and 52 inch width the boat offers plenty of room for gear, catch and 2 anglers. Anglers will appreciate the generous capacity of this boat.
Up to 532lbs can be stowed in the stern and bow storage areas.
Mounts are integrated for the outboard of your choice and it is easy to mount a simple trolling motor at the bow.
For the angler this boat has extras that you don't find on traditional Jon boats.
Add-ons that come as standard, like integrated rod holders, set this boat apart from the competition. For example, the 4 positions for rod holders have proven to be popular among owners of this boat.
This boat has proven popular with both solo anglers and 2-people angling parties.
The boat is generally considered to be good quality and very functional.
However, be careful where you purchase this Jon boat from, because some reviewers reported leaking and damage due to poor protection during transit.
At $600 the two-person American 12 Jon boat is a great deal.
The best Jon boats for group fishing are wider & longer
When it comes to fishing in a group a small boat just won't cut it.
Our choice for group fishing expeditions is the Lowe 16″ Jon Mod-V Bow, 20″.

When fishing, in a Jon boat as a group, size is everything especially when it comes to the width of the boat.
Wider Jon boats are not only more stable but they provide extra space for gear and ease of movement on the deck.
This semi-v Jon boat offers room for up to 5 people. Its generous 16 foot length and 52″ width offers a lot of space for gear and anglers.
Its modified v-hull gives you greater range and scope for those angling trips in rougher waters and makes it possible to fish under conditions that are a bit too challenging for a Jon with a flat-bottomed hull.
Lowe's riveted Jon boat is made from marine grade aluminum and has a utility finish with handles for easy launch and retrieval.
As with all aluminum boats you will have to take special precautions to protect the metal if you plan to use this semi-v in saltwater environments.
The decked bow area provides a level standing space to cast-off and this is complemented by rugged bench seating with integrated storage.
The best Jon boats for bowfishing are modified with a shooting platform
It should come as no surprise that Tracker would make it onto our list of best fishing Jon boats.
In fact, Tracker make such good Jon boats that we could easily have picked any one from several different models.
However, narrowing it down based on overall quality, functionality and cost, our choice for best bowfishing Jon boat is the TRACKER GRIZZLY® 2072 CC Sportsman.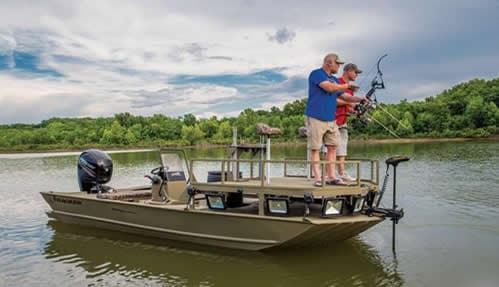 For bowfishing you need the very best vantage points that will allow you to have great oversight of the water.
A Jon boat like the Grizzly Sportsman delivers the height from its raised shooting platform to allow you to excel at this.
The elevated bow shooting deck is one of the main outstanding features of this Jon boat.
The shooting platform is roomy, stable and can be fully, easily and quickly removed, which is something you may need to do from time to time. If, for example, you plan to go on a boat camping excursion or duck hunting trip and need extra space (and also want to lighten the boat weight), the ability to remove the shooting deck becomes a game changer.
This boat can also accommodate pedestal seating and has a remarkable amount of storage space, including live wells.
The Sportsman has an onboard Firman® W2100i, 1700W inverter generator and integrated powerful LED spotlights on sides of bowfishing deck to facilitate fishing at night.
The entire boat is made from high-quality aluminum. Unlike most Jon boats this gem has remote steering control that is attached to the Minn Kota® PowerDrive™ 12V, 55 lb outboard trolling motor. (We demonstrated how to convert your Jon boat to accommodate remote steering here).
The Grizzly Sportsman, as you would expect from a Tracker Jon boat, is exceptionally stable.
This boat, with its well thought-out design and superior build quality, does not come cheap though. At $27,000, this bowfishing Jon boat is a significant investment but earns its price tag with its exceptional functionality and superior design characteristics.
Jon boats are by far the best vessel for shallow water fishing
Our choice for best shallow water fishing Jon boat comes from Ranger Boats.
They have a range of different sized White River models that are fully customizable and can be used for a variety of different activities.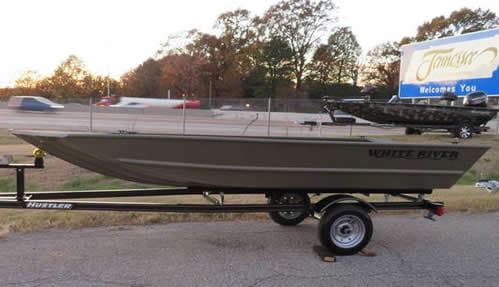 Of course your choice of White River boat size will depend on your personal needs.
As it would be impractical for us to cover all the different boat sized models in the White River range we have chosen the smallest Jon in the range as it has all the same characteristics as the larger vessels.
This 1448 aluminum Jon boat pulls its weight as a reliable fishing boat for tracking down those bass, catfish, and muskies.
It performs well even in very shallow waters.
Its price is also competitive at just over $3,400 and each boat size will increment the price by several hundred dollars with the largest in the range, the 20 foot 2072 MVX Sportsman, costing $29,995.
These high quality welded aluminum Jon boats are thoughtfully designed with rugged detailing like a casting deck for easy fishing on a 3-person trip.
The best Jon boats for bass fishing are specially modified for the task
Bass fishing is done usually at dusk and dawn in the shallows.
With a Jon boat being an exceptionally good shallow water boat many bass lovers will use them for fishing as they are considerably cheaper than a bass boat and actually have a much shallower draft. But is a Jon boat suited to bass fishing?
We covered the answer to that question in the article Jon boat vs bass boat but, suffice it to say, the boat you choose (Jon or Bass) will largely depend on the waters you intend to navigate.
Although there are key design differences between a Jon boat and a bass boat the biggest difference is in the hull design i.e. the boat's bottom.
A bass boat has a v-hull and deeper draft than a Jon boat, while a Jon boat has a flat bottom and extremely shallow draft.
If you need the versatility of a Jon boat its capacity to access shallow waters but love the functionality and onboard design characteristics of a bass boat, then you should consider converting your Jon boat into a bass boat. We demonstrated how to do it in the article The Ultimate Jon Boat To Bass Boat Conversion Method.
Not only will you end up with a kick-ass fishing vessel that can navigate extremely shallow waters but you will save a considerable amount of money in the process.
If a full blown Jon boat to bass boat conversation is not something you want to invest time in then you can easily customize and set up your Jon boat for bass fishing with some simple add-ons.
The best Jon boats for night fishing are ones that have a few simple add-ons
Our choice for best Jon boat for night fishing comes from the XPress Boats 2020 Recreational and Livewell Series.
This long-standing manufacturer of aluminum Jon boats have produced a range of models that have the storage and capacity required for a successful night's fishing.
The sizes of these Jon boats range from 1440 through to 1652 which means you will be able to safely seat additional anglers and pack up to a 70 HP engine if you upgrade to a remote side or center. driving console.
Generous decking can be used for the installation of the powerful LED lights needed to maintain visibility at night.
This recreational range is considered with the inclusion of aerated livewells meaning you can keep your catch conveniently on board.
Night fishing is all about illumination and these key night fishing accessories will give your excellent visibility and keep you safe.
3 Ways to trick out your Jon for night fishing
Although we included the Livewell Series of Jon boats as our best pick for night fishing in reality any Jon boat can be used at night as long as you have the correct equipment.
What do you need?
As a minimum there should be lights at the center of the bow, or around the bow platform, of your boat.
This not only ensure safe navigation at night but it also enables anglers to see fish. Safe navigation would be assured if you used 40,000 lumens of LED lighting mounted on the bow.
However, there are some other really cool things you can add to your Jon boat to make it a real night killer.
1. Add a bow-Mounted searchlight
A high quality mounted bright searchlight is essential for safe night navigation on inland waterways, which often hide tree roots and submerged obstacles.
Our choice for deck lighting is the GoBee Bow-Mounted Halogen Searchlight with Remote Control
.
This socket mounted bow light sits atop a 12″ bar and can be readily controlled from the stern using the key fob remote control.
This powerful 80,000 Candela brightness lamp throws light forward by hundreds of feet for safe nighttime angling.
The light can be directed with up, down and side to side movements and comes with integrated red-green nav lights for additional convenience.
2. A handheld flashlight can also be helpful
Sometimes you need something that is a little more portable than a deck light.
This rechargeable spotlight from GOODSMANN is a waterproof flashlight 4500 Lumen flashlight.
This flashlight is ideal to have on-hand for all aspects of an after-dark fishing trip.
The waterproof marine spotlight has three different settings and throws light forward a significant distance for navigation as well.
When not in use it can be stored in its handy, zipped storage pouch.
3. Rod lights offer a convenient solution to a common night fishing problem
An all-too-often overlooked night fishing light solution is rod lights. These night fishing Rod LEDs, from Lemonbest come in a convenient 3-pack.
These handy little rod lights are a great way of monitoring your lines when you are night fishing.
They don't require much energy, and so have a long battery life, yet are powerful and visible up to 100 m away.
The integrated motion sensor on this amazingly lights will flash red when you have a bite!
The accompanying 3 mm and 5 mm attachment clips will fit most rods.
There are other little extras that can make night fishing extremely rewarding and a lot of fun.
Watch the video below for more creative night fishing accessory ideas.
Must-have Jon boat night fishing accessories (video)
Increase the performance of your Jon boat with these 5 essential fishing accessories
Once you have selected the ideal Jon boat for your style of fishing, you need to set it up so you have everything to hand. Keen anglers will benefit from adding these easy to fit accessories and fittings:
Summary: Best Jon Boats For Fishing & Best Bowfishing Boats
The classic Jon boat has yet to be bettered as a great vessel for inland shallow waterway fishing trips of all kinds. It keeps things very simple – just add people and gear and you are ready to go. However, a Jon boat also lends itself to a multitude of customizations.
Modern Jon boats are fully and easily customizable meaning you can turn your humble Jon boat into a killer fishing vessel, incredible bass boat, or even a bowfishing boat complete with shooting platform.
The range of sizes of Jon boats and the features available mean that anyone can readily source fishing related add-ons and/or customize their Jon boat to satisfy their own personal requirements.
The perfect hull deign of a Jon boat will meet the requirements of just about all inland and shallow water anglers.
Flat-bottomed Jon boat allow for access to waters that are only a few inches deep.
Semi-v, or mod-v, Jon boats allows anglers to navigate and fish in more turbulent waters.
The simple trailer ready design, will get you over to even the most obscure fishing spots safely over land and water.
Our choice of the best Jon boats above are not definitive and you should look around for boats that fit your specific needs the best.