The Jon boat is a simple and versatile vessel which is known for its superb ability to navigate shallow and calm waters. It is often the boat of choice for the angler and huntsman who can use these agile flat-bottomed boats to access the best waterways for fishing and waterfowl hunting.
13 Awesome Customization & Modification Ideas For Your Jon Boat
Below are 13 great Jon boat customization ideas that you can implement at home in the garage.
Let's take your boating to a whole new level!
How the basic design of a Jon boat lends to easy customization
The basic design of a Jon boat means it has a flat bottom and an open hull with exposed ribs along with a transom to which a basic outboard trolling motor can be attached.
These boats can also be easily propelled manually with a paddle or pushed in shallow waters with a pole.
A Jon boat can also be rowed by oars (when oar locks are fitted).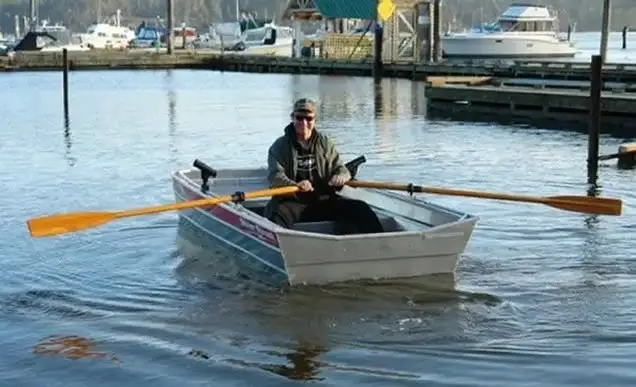 The simple design of this easy to maintain vessel lends itself excellently to a wide variety of customization and upgrade projects.
Most boats come as a stripped down aluminum or wooden shell, meaning that you can take a basic Jon boat and with a little work and patience turn it into your ideal vessel.
Here we share a variety of Jon boat ideas that will help ensure your Jon boat excels in performance, comfort and looks.
2 Awesome Jon boat deck ideas
Below are 4 Jon boat customizations you can complete yourself fairly cheaply and quickly.
The ultimate Jon boat upgrade – bass boat mod
A Jon boat, by design, has an open decking area that allows you to move freely about the boat. However a Jon boat can modified to have solid decking like a bass boat.
In fact this is the first modification made when converting a Jon boat to a bass boat.
If you want to know which type of boat is better for you read our article Jon Boat vs Bass Boat.
Decking a Jon boat provides a stable and well balanced surface for standing on your boat or for placing elevated swivel chairs.
Without decking, most will find themselves standing in the hull or sitting on the simple bench seats.
Raised or extended casting or fishing decks for your Jon boat massively increase visibility, utility and the potential for your boat to accommodate more than one angler.
As the Jon boat is flat-bottomed, it has less displacement of water than a v-hull or a semi-v hull boat.
So, additional decking that provides a flat surface for standing on can cause instability in this type of small boat.
Therefore successful decking of your Jon boat is all about balance.
Start by placing casting decks at the front and rear of your boat for a balanced arrangement.
Of course there are other steps you can stake to stabilize a Jon a boat.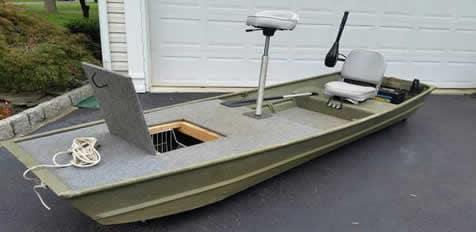 Adding extra storage space – easy decking mod
Adding storage to your Jon boat greatly extends the utility of your vessel.
It is probably one of the first Jon boat ideas you will take on. Gear, bait, tackle and even your coolbox can be conveniently stowed.
When adding storage units the key is to use your shallow hull as efficiently as possible.
The bench seating of the boat lends itself to the conversion of a wide variety of storage compartments.
Seat boxes are particularly useful as they not only provide storage but also act as a mounting base for swivel seating.
Boat hatches can be used to stow rods, bows or guns.
Using aluminum framing and plywood you can build your own custom storage or purchase parts used by commercial boat builders and install.
We demonstrated how easy it is to build your own storage compartment here in the article how to build a flat bottom boat.
1 Cool Jon boat floor idea
Stop walking around on a slippery deck when you don't have to.
Jon boat carpeting deck modification
Carpeting is one of the most popular Jon boat ideas when it comes to customization and the first choice for the flooring and surfaces of a customized Jon boat.
It adds traction and comfort and can be used to line surfaces.
Choose a good marine carpet
or alternatively get decent outdoor waterproof carpet.
Choose a carpet fabric which can be laid down and ripped up easily.
Adding a foam underlay, or foam decking sheet
, can also contribute to comfort underfoot and help with retrieval should the boat sink, as we outlined here in this particular article.
Opinions vary as to how carpet should be attached to the boat decking.
Glue is commonly used but may be problematic if the carpet needs replaced.
Another option is to add additional plywood decking onto which you can staple the carpet but this involves much more work.
2 Jon boat seat ideas
For many people the basic seating of a Jon boat is uncomfortable.
Seat pads offer extra comfort
The hard wood or aluminum benches can become extremely uncomfortable when you are seated in the same position for long periods.
Luckily there are great padded seating options available.
Adding foam covers will offer superior comfort while on the water for long stretches of time.
There are some great options available like these waterproof seat covers on Amazon
.
Swivel chairs allow for better fishing
Swivel seating for Jon boats are also popular, and worth the investment.
Seating pedestals and mounts, like these ones
, can be readily ordered online or bought locally and integrated with existing benches.
Clamping systems can also be obtained from the same places to integrate seating with less construction work necessary.
2 Jon boat ideas for a hull upgrade
Many people don't like messing with the hull of their boat but with a Jon boat it's easy.
Semi-v customization for riding the chop
A Jon boat has a flat-bottomed hull that makes it perfect for navigating extremely shallow waters.
But, as I pointed out in this article, a flat bottom hull design does have some drawbacks, drawbacks which a semi-v hull boat can slightly overcome.
In order to be able to use their Jon boats in more challenging water conditions some owners will convert their fully flat bottom Jon boat into a semi-v Jon boat.
Although this is possible to do as an at-home project it can be time-consuming and costly depending on the materials you use.
You can buy semi-v Jon boats right out-of-the-box and this is often a better option than converting your existing boat.
Read the aforementioned article to better understand the implications of making this Jon boat modification.
Camouflage – when you don't want to be seen
For the waterfowl huntsman camouflage and concealment of a Jon boat is critical to success on the water.
We covered how to camouflage your Jon boat previously and it is worth reading that article if you plan to take to the paint.
A variety of camo decals and spray paints are available to customize your Jon boat yourself with simple stencil based techniques.
Although it is very easy to complete this job yourself in a few hours we do advise you to choose high quality marine paints and sealants for a professional finish.
Doing this will ensure the finished job withstands the effects of heavy use and the weather.
3 Electronic Jon boat modifications to make your boating more fun
Custom wiring and electronics are a major upgrade for any boat and can bring your Jon boat into the big leagues performance-wise.
Technically minded boat owners may want to undertake a DIY project involving one, or all, of these Jon boat modifications.
Deck lighting – illuminating your boating experience
LED lighting can not only help you see but it makes your boat look tricked-out.
You can line it along the deck or around the hull just above the waterline.
You can also fit stern and bow LED lights.
It looks awesome.
See the image below where a fully customized Jon boat to bass boat conversion was topped off with some deck lighting.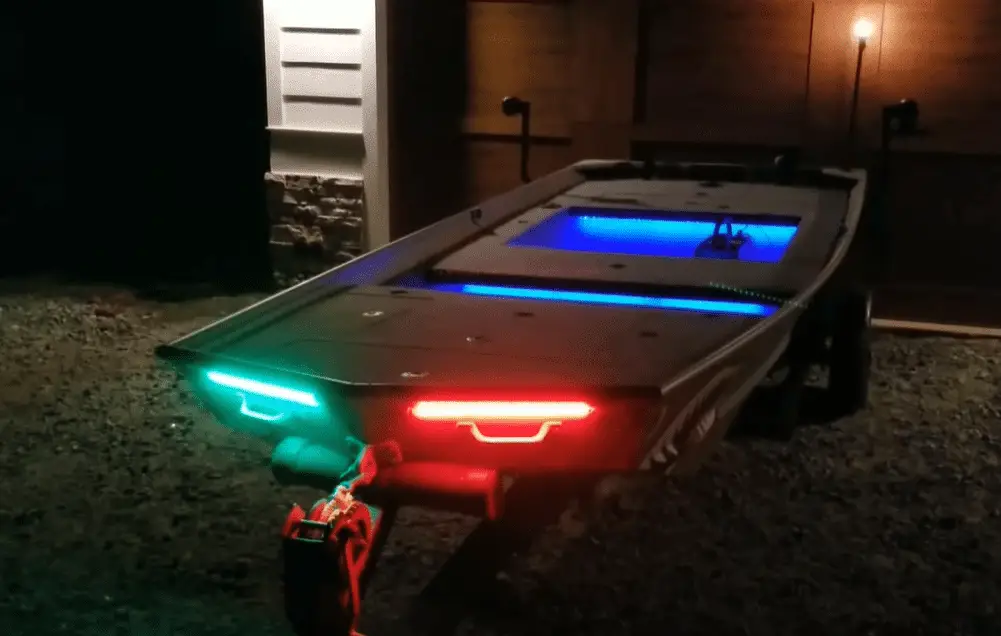 Speakers – John boat modifications for the musically-minded
Sometimes boating in the silence is just not the way we roll!
Chartplotters, Sonar & Fish finder
If you use your Jon boat to fish then you will get great benefits from fitting electronic devices that ensure you don't go home without a catch.
You will find quick reviews these electronics and 44 other must have upgrade accessories for your Jon boat here in this article.
3 Jon boat mods for going, stopping & staying still
Below are some great Jon boat mods for the motor,
The Jon boat modification that makes propulsion easier
Most Jon boats don't come with an engine as standard.
The addition of an appropriate outboard engine, like a trolling motor, will aid your Jon boat in navigating waters with stronger currents and allow you to move in calm waters at speed.
Given the shallow draft of Jon boats the size of the motor must be taken into account to prevent excess weight making the boat unstable.
Most Jon boats can handle a motor up to 25HP efficiently.
There is a range of lightweight yet effective outboards on the market so finding one to suit your needs should be a fairly simple task.
Also consider adding oar locks to your Jon boat so you can row it.
Poles and paddles are good alternatives to oars and are popular with duck hunters and fishermen as they provide a way of moving the boat stealthily.
However, even if you don't hunt or fish you definitely need some form of manual propulsion on the boat. This is necessary so you can still navigate should your outboard motor fail or you find yourself in the type of shallow waters where using a rudder is impossible.
This foot pedal John boat modification is ideal for remotely control a trolling motor
A foot pedal offers great convenience for anglers or hunters who want precision control over their boat's movement.
A recessed foot pedal tray is ideal for trolling motors.
Foot pedal controlled trolling motors can also be integrated with GPS, sonar and fish finders for maximum angling advantage.
We showed how to fit a fish finder to a trolling motor here.
Be sure to shop around for the a foot pedal that will work best for you but here are a few examples of waterproof foot pedals
to show you what is available.
Anchors away – leave that grapple at home and mod up your boat's holding power 21st century style
Adding an electrical pole anchor is a great way to modernize your Jon boat.
Although you should have at least 2 anchors onboard, to help secure your Jon in one spot in windy conditions, an electrical pole anchor offers convenience and a modern touch to the boat.
Read this article for a better understanding of what type of anchors are ideal for your specific Jon boat.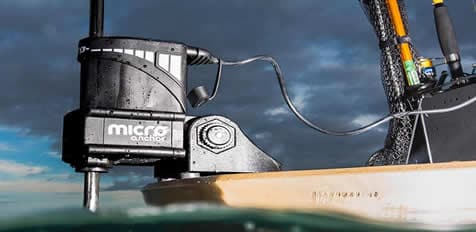 The next level Jon boat modifications
These Jon boat ideas show just how great an investment a little time spent customizing your boat can be.
The versatility of a Jon, and the ease with which it can be customized, means that with even a few of these upgrades you can have a vessel that will compete with bigger boats.
With a little elbow grease, and a little time, you can implement a number of the above Jon boat ideas. You can easily trick out your boat to rival much higher-priced higher-end boats while keeping the advantage of lighter weight and easier handling simple Jon.
If you want more ideas for Jon boat modifications see our article highlighting the top 50 awesome Jon boat accessories.
Home-based projects abound that clearly demonstrate how you can customize your Jon boat to create a truly personal and super functional boat.
It is simply a matter of how much you work you want to put into it.
These customized utility boats offer not only practicality but longevity with the parts described above easily sourced, maintained and replaced as needed.