Jon boats are some of the most common and most popular small boats used on American lakes and rivers. Here is a curated list of 50 Jon boat must-have accessories.
50 AWESOME JON BOAT ACCESSORIES FOR THE SERIOUS, & NOT SO SERIOUS, BOATER
Below are 50 Jon boat accessories for the flat bottom boat enthusiast.
If your browse thorough the selection you will find at least a few good ideas to include in your next boat expedition and may even get some ideas for your next Jon boat modifications.
We've listed 50 Jon boat accessories that will do one of several things (or more than one):
Help you stay safe while you're out on the water.
Make the boat easier to operate and navigate.
Help you find more fish.
Help make your boat look awesome.
Without further ado, here are the 50 must-have accessories.
4 JON BOAT ACCESSORIES FOR THE DECK
Paint and primer
Keep your boat in top-top condition with a regular coat of paint and primer.
These two will go a long way towards preventing rust and rot from setting in.
All you have to do is give your boat the occasional touch-up and let it sun dry.
If you're creative this is also a great way to customize your boat!
Epoxy primer can work great
.

Jon boat cover
Increase the longevity of your boat by as much as 30% with this waterproof Jon boat cover.
It's great at preventing mold and mildew growth too.
Make sure you get the right size to fit your boat.
If you're not sure of the sizing at first, go out and measure your boat so you'll have the perfect boat cover that's snug.
These covers
are designed specifically for Jon boats.
Carpet for the floor
Boat accidents where people slip and bang their head are more common than people may think.
Stay safe in your boat with this slip resistant, durable carpet that is unlike house carpet in the fact that it won't stink when it gets wet.
This type of carpet
for a Jon boat floor is definitely worth investing in.
Cup holders for the beverages
High quality stainless steel, rust proof cup holders are great for holding cans, mugs and cups.
They offer easy-installation as they come with a drill hole where you can insert a screw bolt to fasten the cup holder on the side of your boat.
Perfect for holding your thermos flasks as well. See them here
.
4 JON BOAT ACCESSORIES FOR MORE COMFORT & BETTER MOVEMENT ON DECK
Seat mount for seating upgrade
Anyone who has ever been in a Jon boat and sat on the original hardwood benches will tell you that they are far from being comfortable.
Seat mounts go a long way in helping to increase your line of sight and with the ability to swivel you have access to a 360 degree view.
The seat mounts are solid and fit a wide-range of seats. Seat mounts an absolute must for hunters and anglers.
Amazon offers a great range of seat mounts but we think this one
offers the best value for money
.
Pedestal base plug
This pedestal base
is built specifically to seal your pedestal base when it is not in use. It has an easy on and off installation system.
Stay safe while on board thanks to this pedestal base plug.
Designed to fit 1.77 " seat bases the T-H Marine pedestal base plug can be installed and removed in seconds thanks to a convenient slide pin design.
It is molded from hard plastic to ensure durability and it offers safer, less accident-prone fishing.
Crafted from hard plastic, this durable and weather resistant pedestal will create a safer Jon boat experience.
Swivel seats for better movement
Swivel seats are perfect for fishing and hunting (like like these ones).
They are also great for when you just want a little extra movement on your Jon boat.
Seat covers when you don't want to upgrade
If you plan to keep your standard Jon boat seats then at least make them comfortable with some cushioning.
Create a more comfortable seating space in your boat with these comfortable, waterproof seat covers.
Jon boats as you know typically come with hard seats that can be become very uncomfortable when you sit for long periods.
Make your seating more comfortable with these padded boat seats
.
3 JON BOAT ACCESSORIES FOR BETTER ANCHORAGE
Anchors perfect for Jon boats when you need to stay still
Secure boat when docking with this sturdy and solid anchor.
Make sure you purchase the right anchor for your Jon boat.
Don't go too heavy on the anchor. Jon boats don't need heavy anchors and can be anchored with an anchor pole.
This deluxe portable 8.5 lb fluke style anchor kit
is perfect for a Jon boat being lightweight but sturdy.
Anchor cleats – if you have an anchor you need these
Get these durable cleats to help moor your boat. Custom designed to make tying Jon boat or skiff anchor easier.
Purchase cleats from the same company that made your anchor if possible for a better fit or get generic anchor cleats like these
.
Power pole blade series – when you need anchoring to be easy
Anchor your boat in shallow water with this power pole blade series.
The innovative design makes this pole able to stabilize your boat in the shallowest of waters.
This power pole
comes with a powder-coated protective finish that gives it its sleek galvanized look.
Its pump is relatively silent and can be controlled using a wireless remote.
10 JON BOAT ACCESSORIES FOR FISHING
Fish cooler bag
Are you planning on doing a bit of fishing when you hit the water but don't have the space or the weight capacity for bulky hard coolers?
Then you're certainly going to need a fish cooler bag if you want to keep the weight down on your boat.
Keep all your fish fresh with this fish cooler bag.
This lightweight insulated cooler bag
is designed with to be leak proof and portable enough to fit on a kayak!
Rod holders
If you fish then you need rod holders.
Most rod holders are easy-to-install and can be mounted on deck boat or attached to its sides.
These rod holders
come with mounting accessories to simplify the mounting task.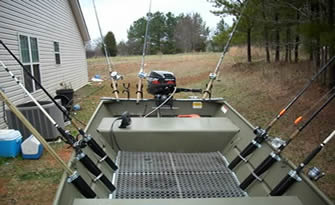 Ball cradle
Do you need a sturdy ball cradle for your downrigger?
This Big Jon ball cradle
is the perfect cannonball holder, which enables you to mount any downrigger.
Capable of holding several rod holders, it's made from aluminum and comes in a black powder coat finish.
Solid aluminum cannonball holder that mounts to downrigger base. It's designed to last.
You won't be buying a new ball cradle any time soon.
Universal gimbal mount
This Ram Mount heavy duty Universal Marine Electronic Mount
allows you to mount bases onto it.
Simply slide the attachment onto this gimbal mounting base.
Lock it down to keep it from rotating.
Comes in a black anodized coating that's not going to rust any time soon.
Band buster line release
Simple and easy-to-use line release. Allows you to easily see when a fish bites your line thanks to its innovative design.
This Big Jon band buster release
will do the job.
Fish Finder
This popular Humminbird fish finder
comes with a 5″ color WVGA display and CHIRP Dual Beam PLUS Sonar.
Its has a power output of RMS 500 watts and a power draw of 615 mA.
It offers precision Internal GPS Chart plotting with built-in Anima cartography and a micro SD card slot for optional maps or for saving waypoints.
Target Separation is 2.5″.
The Humminbird includes transducer (not all units do) and mounting hardware, power cable and gimbal mounting bracket.
Fishing markers
Afraid you'll lose your favorite fishing spot and be unable to find your way back to it?
Fear not, these fishing markers
made from high grade vinyl designed to withstand the harsh elements will stay put where you've left them.
They are not subject to cracking or fading, and come with a 75 foot resistant line and a 6.5 oz. weight ready to sink to the bottom to secure your fishing spot.
Underwater camera adapter system
Want to post your underwater footage to your social media platforms or just boast to your buddies about your watery experiences?
Then you'll need this stellar underwater camera
. Capture underwater footage with this 16MP underwater camera.
Boasting an impressive 4K resolution, and able to reach depths of up to 40 meters (131 feet).
It's the perfect accompaniment for those wishing to engage in underwater escapades while filming it.
Planer board line
If you plan on troll fishing you can't do so without an effective planer board line.
Here is a reliable set
from a trustworthy brand. Buy a couple of packs of line and keep on board in your supply kit.
Replacement counter
For any fishing expedition to go successfully you need a reliable replacement counter.
This manual downrigger counter
counter allows you to spool your line onto the reel efficiently and quickly.
You won't have any issues with the counter moving or coming off.
4 JON BOAT ACCESSORIES FOR BETTER ILLUMINATION
Waterproof tactical flashlight
This durable waterproof flashlight allows you to see objects 1000 feet way and is 10 X brighter than regular lights.
It is compact, with adjustable light modes.
This double pack kit
has 2 tactical flashlights that are water resistant. 1 is a 2000 lumen bright flashlight and the second is a smaller 1000 lumen flashlight.
Each has a 3 rechargeable power cell that offers up to 8 hours use.
Both flashlights are skid-proof and have strong string loops to hang on your belt clip or hold in your hand.
Poor lightning on the water can be a dangerous phenomenon.
Navigate with dexterity and stay safe with the help of these navigational lights.
Corrosion resistant, easy-to-install and capable of being mounted almost anywhere on your boat these small and lightweight navigational lights are perfect for a Jon boat
.
Repair lights
Nothing sucks like being out on the water and not being able to see anything.
These repair lights make fixing any on-board problems easier.
Always keep a couple of these type of repair lights
on hand for emergencies.
LED trolling motor light
Light-er-up with this high-powered LED trolling motor light.
This LED trolling motor light
is great for bass fishing and includes a 100 watt cube, spot/flood lenses, ram mount, & wiring harness with a and easy quick disconnect.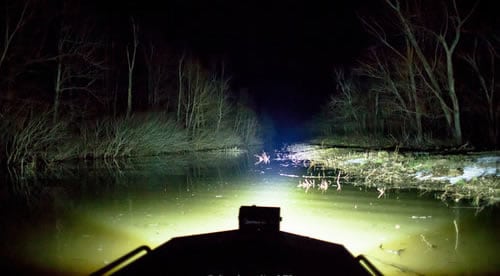 2 JON BOAT ACCESSORIES FOR STORAGE
Storage trunk that frees up valuable space
On a Jon boats storage space is usually at a premium.
If you don't want to make your own storage unit, as we demonstrated how to do here, you can buy one very cheaply.
Purchase this storage trunk to keep all your supplies, food, and other objects.
A boat trunk, like this one
, usually features an impressive design and provides ample space for important equipment or just your personal belongings.
A boat trunk is durable, lightweight and convenient to carry onboard taking up very little space.
Revolutionary lightweight cooler
Keep you chilled items cold and ensure perishables last longer in this super lightweight cooler.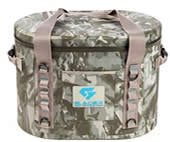 This Glacier IceTub is the world's first lightweight portable cooler that performs like a hard sided cooler but keeps the weight down to that of a soft side cooler.
The innovative design is revolutionary and new that the patent pending is still pending.
The cooler utilizes the best features of a hard sided coolers including over 2″ of premium rigid polyurethane foam insulation that will keep your contents cold.
The camo color ensures it will blend with the boat when hunting.
Keeps the beer cold as well!
3 JON BOAT ACCESSORIES FOR YOUR GEAR
Cell phone dry case with lanyard
Keep cell phones dry with a cell phone dry case. Hang your phone conveniently around your neck with the attached lanyard without worrying about it getting wet.
High quality material makes it easy for friendly screen-touch.
Transparent waterproof cases enable you to take good quality pictures and videos underwater.
You may unlock all the Home buttons perfectly.
The only downside is that you won't be able to use your fingerprint ID to unlock the phone but this is a small compromise to make for much-needed phone protection.
They are very cheap and there are a variety of different types available to suit all phones. See them here
.
Waterproof dry bag
It isn't just your phone that you need to keep dry when cruising in your Jon boat.
Keep your gadgets and water-sensitive objects safe in this waterproof dry bag. Ideal for those boating trips in the rain or when there will be a bit of wash on the boat.
Waterproof dry bags are lightweight, compact and durable. They are very easy to clean as well.
A good bag, like this floating wet bag
, will be spacious and able to carry quite a few supplies.
Key floats so you don't lose your keys
Afraid your keys will sink to the bottom of the river or lake?

These highly visible key floats prevent such an occurrence.
Made from durable material and vinyl coated these floats are a must-have for your keys and other valuables.
This Chums key floats pack contains 2 chums neoprene foam-filled floating boat key chains
in bright yellow and a safety lanyard.
10 JON BOAT ACCESSORIES FOR EFFECTIVE PROPULSION & POWER
Oars for stealth hunting & fishing
Prefer to row?
Get in a good arm workout with these solid oars. Streamlined to make your rowing experience easier.
These oars
come as a pair and are made from glass filled polypropylene blades. Oarlocks are included.
Oar lock sockets
Do you have some spare oars sitting about but no oarlocks? No problem!
Keep your oars locked in place with these secure stainless steel side mount oarlock sockets.
Be sure to get the correct type of oarlock sockets
that can be used in both freshwater and saltwater environments without fear of rusting.
Motorguide trolling motor
No modern trolling boat is complete without a reliable motorguide.
This compact, easy-stow and deploy motorguide is a must for any modern boater.
Equipped with ratio steering technology, you're guaranteed a seamless boating experience.
This motorguide is accompanied by a handheld wireless remote and has autopilot for easy navigation.
It also has a handy battery meter.
What's not to love? Check it out here
.
Trolling motor stabilizer lock
Reduce the risk of transom nuts coming loose with this motor stabilizer lock.
The T-H Marine Supply Troll
lock system fits the engine's mount bolts snugly ensuring a tight fit. Made of stainless steel and featuring an anti-theft system this lock's security is high level.
Trolling motor prop protectors
Even the protectors need protecting and that includes boat covers!
This trolling motor prop protector
is designed to help keep your boat cover safe from tears that may occur when it rubs against sharp corners.
Only a heavy-duty high grade vinyl material like the one used to fabricate these prop protectors would do.
These trolling motor prop protectors are available in a range of sizes to fit 2 and 3 blade propellers.
Eliminator trolling motor nut
Seeking a product to help your trolling motor perform better?
This trolling motor nut
does just that. It significantly reduces prop noises and associated vibrations.
It also features a cooling system which decreases the operating temperature of your trolling motor, thereby prolonging the battery life.
Designed to fit the majority of Motorguide trolling motors, you can't go wrong with this eliminator trolling motor nut.
G force equalizer moto lift assist
If you're looking for a product that will help you with an easy in-and-out of water experience, look no further than the G force equalizer.
The equalizer comes with an instruction manual that makes operation easier.
You can't afford not to have this equalizer on board.
This excellent unit comes with 2 equalizer trolling motor assist air pistons made from marine-grade stainless steel.
The pistons will attach to almost any Motorguide gator mount.
Bounce buster coaster for more on deck stability
Holes in your boat carpets? No thanks.
Equipment that should be stable bouncing about the boat. Not a chance! At least not with these T-H Marine bounce buster coasters.
Bounce buster coasters help you protect your deck from all bounce buster damage and keeps equipment locked in place.
Jump starter battery
You never know when your engine will fail due to a flat battery.
It may not be imperative but if you've got the space then having a jump starter battery on board may just be something you're glad you invested in.
You can never go wrong with this Wagan 7506 iOnBoost V10 Lithium jump starter and battery bank
Both compact and lightweight it is small enough enough to carry and store in an onboard storage compartment (great for your road vehicle too).
It comes with its own AC charge adapter as well as DC charge cable.
Waterproof portable backup outdoor cell phone battery charger with led flashlight
Never run out of charge on your phone again.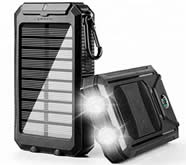 This innovative solar-powered portable backup charger
has 2 usb ports to charge 2 devices simultaneously.
If the light is fading you can also make use of the inbuilt neat LED flashlight.
Comes with 3 LED light settings, a built-in compass, 1 a handy hanging clip and 1 indoor charging port if you need to give it a quick charge.
2 JON BOAT ACCESSORIES FOR EASY TRAILERING
Boat trailer
Moving a Jon boat on land isn't always easy. To get your boat from land to water the easy way get a boat trailer.
Simply mount your boat onto a specifically designed boat trailer when heading to and from the water.
Trailers come in all shapes and sizes and ones that can handle an average Jon boat start at as little as $30.
Here is a great quality low priced Jon boat trailer
.
Trailer lock
Keep you trailer safe with a safety trailer lock. These easy to use locks features a cutting edge innovative design that keeps your trailer hitched in place.
Most trailers locks are a perfect fit for most trailers.
The last thing you want is your boat coming off its trailer on the highway!
Keep your trailer securely locked in place with a cheap, but effective, trailer lock
.
2 JON BOAT ACCESSORIES FOR QUICK REPAIRS
Plastic structural adhesive
You should always have an emergency repair kit on board.
One of the key things you need in this kit is a plastic structural adhesive.
Structural adhesive is a great sealant for carrying out repair work on your boat.
This trusted brand
is able to work on a variety of materials from ceramic, glass, metal, PVC to wood.
Wiring tape
For all your wiring insulation, This cheap wiring tape
gets the job done right.
Make sure that you've insulated any and all electrical wires that may have frayed.
Made from an adhesive sticky rubber resin, this tape has good stretch and provides a long lasting insulation solution.
4 JON BOAT ACCESSORIES FOR BETTER SAFETY
Emergency telescoping paddle
Regardless of how your Jon boat is powered you should always have a means of manual propulsion onboard in case of an emergency even if you don't use your boat for hunting and fishing.
This cool emergency telescoping paddle
could be exactly what you need when your motor fails.
Weighing in at just 1 lb., 5ozs it is fully collapsible making it easier to store.
When it is only 20 3/4″ in size when it's collapsed.
It then telescopes out to 42″ giving you more than enough length to paddle your boat.
Made with a corrosion-resistant aluminum shaft and high-impact plastic blade.
Inflatable fender to avoid those hard knocks
This Inflatable fender
is a very cheap way of protecting your Jon boat.
An inflatable fender will help you avoid damage to your boat should you hit the shoreline.
Mustang survival jacket – great for younger passengers
Planning on hitting the water soon? Take all necessary precautions to stay safe.
This mustang survival inflatable safety vest
is designed for the lake and ocean racer.
Engineered using membrane inflatable technology, you're in good hands when you get onto the water in this vest.
UV protection sunglasses
These classic aviator sunglasses
have a specialized multi-layer lens designed to filter and block over 99.96% of glare.
J+S Polarized lenses blocks out intense glare by having vertically oriented filter layer embedded in the lens.
These sunglasses have tough, lightweight, scratch resistant lenses for high optical and distortion-free vision, making them an excellent choice for water activities.
They are 400UV rated, meaning it can block 99% of both UVA and UVB radiation.
2 JON BOAT ACCESSORIES TO MAKE BOATING MORE PLEASURABLE
Waterproof Bluetooth speaker
Equip your boat your boat with the latest Bluetooth technology.
Many modern waterproof boat speakers can be heard over noisy engines and at long distances.
With universal compatibility, inbuilt rechargeable batteries and being fully waterproof a Bluetooth speaker for your Jon boat can make your time on the water even more enjoyable.
Check out these 6.5″ low priced marine speakers
.
Float tube for some fun
Sometimes you may just want to have fun with friends while out in your Jon boat.
These float tubes can be towed at speed for serious fun in the water.