In this article we will look at the best kayak brands available and specifically look at the best brands, and their boats for specific kayaking activities.
6 Types Of Kayaks Made By Brand Name Companies
If you want to enjoy versatile and active recreational boating, kayaking offers both the flexibility and the scope to hit the water for a range of different activities.
There are a wide range of kayaks on the market and your choice of vessel will be determined by the type of kayaking activity you want to engage in as well as the quality and safety profile of the boat's build.
There are different types of kayaks, with different design characteristics, for different water-borne activities.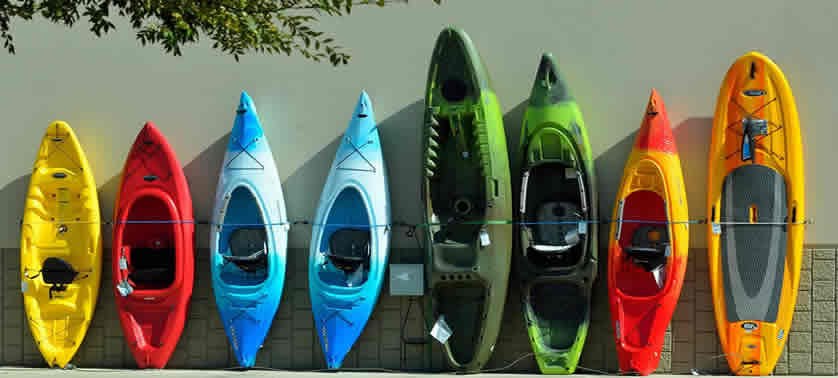 The main types of kayak include:
Sit-on-top kayaks.
Sit-in kayaks.
Touring kayaks.
Inflatable kayaks.
Pedal kayaks.
Children's kayaks.
Among these kayak types are a variety of manufacturers that provide branded, off-brand, and generic designs.
Be aware that with different makes, models and brands the quality, performance, reliability and safety can vary massively.
For this reason is is best to know which brands offer the most bang for your buck and that are the best choice for your chosen kayaking activity.
Do you really need a branded kayak?
As with almost everything for sale branded products cost more than unbranded ones.
So, can you find an unbranded kayak and save yourself a small fortune without  having to compromise on quality, functionality and durability?
The short answer is … NO!
There are benefits to buying a branded kayak that we believe well outweigh the savings you may find on a similar-build unbranded model.
Having said that, there may be some readers who are restricted by a very strict budget.
It's true that unbranded kayaks tend to be considerably cheaper than their branded counterparts but there is usually a good reason for this.
Let's take a look at whether a branded or unbranded kayak is the best choice for you and why we believe you should always go with a branded model if your budget will allow it.
Benefits of buying a branded kayak
Purchasing your kayak from one of the leading brands delivers a variety of advantages over purchasing an unbranded counterpart.
Some benefits of buying brand name kayaks come in the form of:
A reputable company: A brand name becomes a brand name because of its reputation. Purchasing from a leading brand manufacturer means you are buying from a well known and well established company- a company that has built up their reputation by demonstrating their expertise and delivering quality to their customers.
Expertise in design: Leading manufacturers will invest time and money in bringing the best products to the marketplace. They create products that are suited to the rigors of their intended use and are tested extensively. They often work with seasoned or professional kayakers to gain insights into how to improve and innovate their boats.
Verifiable safety profile: The materials used and fabrication methods employed by top kayak manufacturers meet national (and almost always international) safety standards, which provides you with confidence when out on the water.
Superior build quality: The materials used and the overall build quality are usually superior to unbranded models, as a branded company have a hard-earned reputation to protect.
Warranties and guarantees Most manufacturers will offer some form of warranty on their kayaks. You get automatic protection for your new kayak with swift repair and replacement if necessary. You also will have recourse to complain if you need to.
In short, when you buy branded you almost always buy a superior boat.
Why you might opt for an unbranded kayak
If cost is going to be a major driving force behind your purchase decision you may want to look for a cheaper unbranded kayak.
Leading brands can cost upwards of several hundred dollars more than an unbranded model.
Lower cost is the only real benefit you get from buying an unbranded kayak.
If you are using the kayak recreationally and don't expect it to last long, buying unbranded may be fine.
However, if you want to put a kayak through its paces, you may lose out in the quality of parts and fabrication and need to repair or replace your kayak sooner.
Top Kayak Brands By Kayak Type
Below are some of the top kayaking brands available in the marketplace.
This list is far from complete and to be honest we could probably fill out the rest of this article with links to kayaks manufacturers.
So, we have here included only the top brands and separated them into categories for ease of viewing.
Touring/ocean kayaks
Prijon – top quality hard shell touring kayaks and tandem kayaks. Also offer good kayaks for kids and have some great ones for beginners.
Seabird Kayaks – high-end hard shell touring kayaks.
Pelican Kayaks – have a range of great hard shell sporting, touring and peddle kayaks.
River/whitewater kayaks
Dagger kayaks – make great hard shell whitewater and river kayaks.
Liquid Logic Kayaks –  great hard shell extreme sport kayaks and cross-overs.
Fishing kayaks
Gumotex – have some great inflatable fishing kayaks.
Bonafide Kayaks – superior hard shell fishing kayaks with 21st Century design specs.
Sit-in kayaks
Valley Kayaks – great range of hard shell sit-in kayaks for all activities.
Sit-on-top kayaks
Delta Kayaks – great hard shell sit-on-top kayaks.
Inflatable kayaks
Aire – full range of inflatable kayaks for all activities including whitewater kayaking.
Kayak kits
Bear Mountain Boats – kayak kits and plans to build stunning hard shell kayaks.
These kayaks are beautiful and will steal the limelight on any waterway.
Sit In vs Sit On Top Kayaks
If you are unsure whether you need a sit on top kayak or a sit in kayak read our article about that here.
There are various reasons for choosing a specific type of kayak and the above mentioned article will show you which design is bested suited to your intended usage.
Best sit in kayak brand
This was a tough choice to make because there are so many excellent brands out there.
But, we had to pick one sit in kayak.
Perception kayaks offer a range of top quality sit-in kayaks that we just love.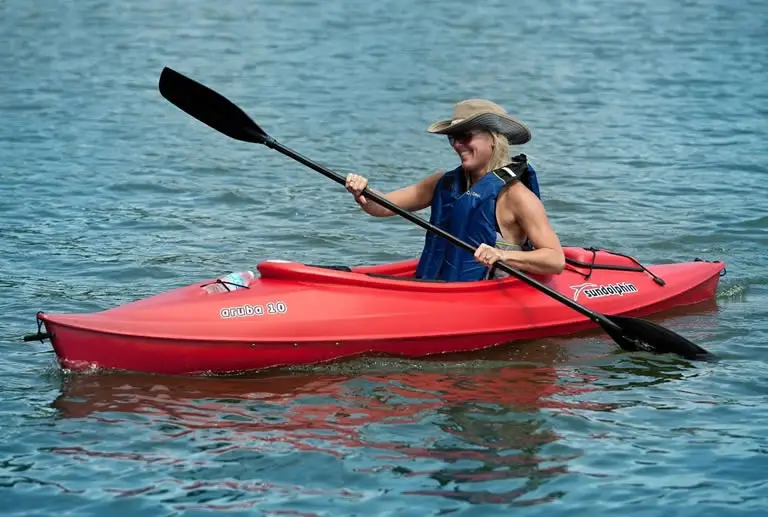 From fishing, to camping and touring to recreational and tandem use Perception Kayaks have them all.
Their website has an easy-to-use guide for picking your prefect kayak.
Pros:
Exceptional build quality.
Superior manufacturing designs.
Hard-wearing polyethylene shell.
Stable.
Very affordable and cheaper than some similar models from other brands.
Cons:
No tandem boats available only solo-use kayaks.
Best sit on top kayak brand
Ocean Kayak make some of the best sit on top kayaks for recreational use.
They also offer a handy buying guide to help you make the best choice of kayak for your specific individual needs.
The company started with a modified surfboard back in the 1970's.
This venture into hybrid boating would eventually lead to the formation of this extremely popular sit-on-top kayak company.
Since then this Malibu born kayaking company has grown to become a leader in the production of these near indestructible Kayaks.
They now deliver them from their facility in Maine.
Owners of these kayaks are very vocal about the benefits they get from using them.
There is a lot of appreciation going to the superior build quality of the open cockpit design Ocean Kayak use in their boats.
Below are some pros and cons of using an Ocean Kayak boat:
Pros
Generous Limited Lifetime Warranty on all products.
Ocean Kayaks also produce angling, peddling and sea kayaks alongside their popular recreational ranges.
Complementary seats and accessories with similar build quality and warranty.
Durable.
Cons
They aren't cheap. These kayaks are generally well-reviewed but carry a price tag upwards of $500.
Best fishing kayak brand
Bonafide Kayaks offer, by far, the best fishing kayaks on the market as far as we are concerned.
Of course there will be some readers who disagree with this but no-one would disagree that Bonafide fishing kayaks are undoubtedly among the best kayaks in the world.
The company's fishing kayaks offer superior stability without loss of deck space.
Features include:
Deck traction pads
Stern access plate for hull access
Side carry handle and paddle storage
An ultra-high bass boat seating position
A DryPod with transducer through hull scupper
The hybrid Cat Hull design
These features (to name just a few) make these boats the ultimate small fishing vessel.
Pros:
21st Century design characteristics.
Bass boat-like seating design.
More than adequate storage space.
Hard shell.
Durable.
Cons:
Price. If you want this type of quality and functionality in one place you have to pay for it.
Best inflatable sit-on-top kayak brand
Aquaglide kayaks are a great choice if you want an inflatable kayak.
An Aquaglide kayak offers a lot of stowing space making them a great lightweight choice for a camping trip (see our boat camping guide).
These inflatable kayaks offer performance and reliability that kayakers of all aptitudes will appreciate.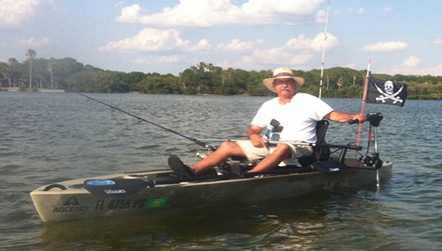 The company has an impressive range of inflatable kayaks, spanning recreational, adventure angling and even whitewater use.
Aquaglide's kayaks feature modern design innovations such as Duratex construction, EvoBeam technology, and drainage meshes that drain the kayak of water quickly.
The kayaks are manufactured and delivered from Bend, OR.
Pros
All products come with a 1 year warranty.
Proprietary seating designs, valves and fabrication techniques.
Inflatable kayaks come with a rucksack for transport and storage.
Aquaglide have worked hard to produce a best in their class range of products.
Durable.
Cons
Aquaglide have had a few negative reviews based on problems developing that aren't addressed by the warranty.
They aren't cheap. Cost is in excess of $800.
Best inflatable sit-in kayak brand
Advanced Elements have market leading hybrid kayak designs which combine the convenience and portability of inflatable kayaks with the resilience you expect from a rigid hard shell hull.
These kayaks are made and manufactured in California and the company relies on the experience and feedback of its customers to innovate its product design.
Touring is their specialty and they have designs suitable for day touring, expedition touring and crossover.
All models are inflation and water tested for leaks and defects, giving you the reassurance that your touring kayak will be reliable.
Pros
A durable design with reinforced bow, stern, skeg and hard edges.
This kayak is a good glider, which takes work off your arms when touring.
Cons
Cargo space on these kayaks is limited.
The reinforcements add to the weight of the boat.
Best pedal kayak brand
Hobie kayaks are specialists in the production of both paddle and pedal kayaks for recreational, sporting and angling purposes.
Hobie peddling kayaks are sold all over the world as they are recognized as the originators of the peddling kayak design.
Their pedal kayaks offer great speed and exceptional maneuverability.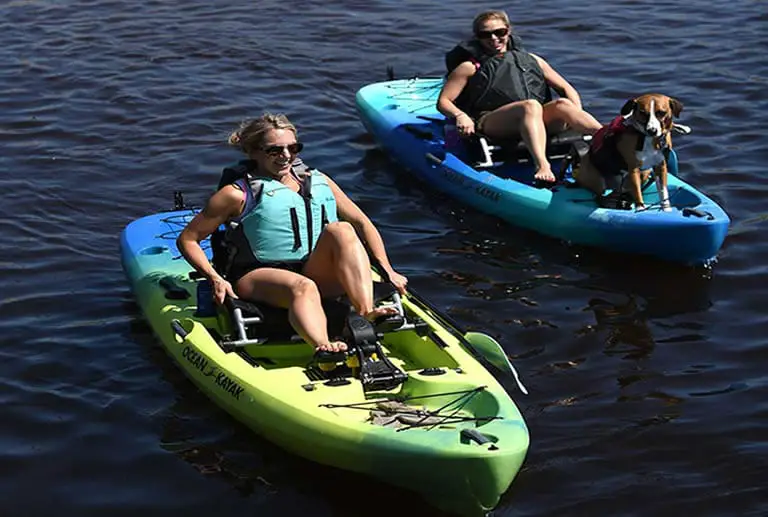 Their recessed hull design protects the pedal fins, which are manufactured with an optimized surface area to move the kayak through the water without excessive effort.
Their great value models are manufactured for individual or group use – being stackable for easy storage if you own more than one or are part of a kayaking club.
Pros
The original pedal kayak manufacturer.
Superior quality & build.
These kayaks achieve great cruising speeds.
2-3 year warranty included on most products.
A good choice for anglers.
Choice of hard material or inflatable.
Cons
Extremely costly. Cost is again the limiting factor with retail prices upwards of $1500, but these kayaks have superb build quality. You get what you pay for!
Best children's kayak brand
Sun Dolphin make recreational and fishing kayaks along with a range of other boat types including canoes (see why having a canoe instead of a kayak might be a better choice for you here).
Made in small-town USA with big love, care and attention to detail, Sun Dolphin's leading range of kayaks are just right for getting your children out on the water.
Their range of sit-in recreational kayaks are made from rugged high density polyurethane.
They come in bold, bright colors that will keep your little ones suitably visible on your journeys.
Sun Dolphin have developed lots of useful features based on family use.
These include:
Adjustable padded seating
High pads to ensure comfort and security in their sit-in kayaks regardless of the size or height of the user.
This makes them a great choice for the family as both kids and adults can fit into a kayak snugly and securely.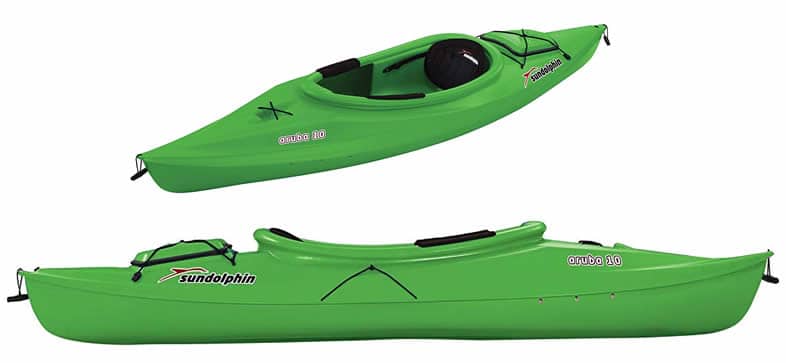 They are an accessible and portable choice for an all-round kayak which a child and adult can readily master.
Pros
Great short length and lightweight material makes these kayaks easy for kids to handle and master.
Excellent storage compartments.
Useful paddle holder.
Long lasting Fortiflex material.
Offer an excellent fit for both adults and children.
Cons
Lightweight construction uses thinner plastic so not as robust as other brands.
Short length means it will probably not suit more advanced paddlers.
In Conclusion: Best Kayak Brands
In this article we introduced you to a range of reputable kayak brand manufacturers which build well designed and durable kayaks for specific and generic uses.
Buying from a brand name provides the reassurance that your kayak will perform well and will last.
You also get the piece of mind that should something go wrong you have support from a well-known company.
We advise every kayaker to buy a brand name model for all the positive reasons we noted in this article.
However, if new branded kayaks are too expensive and beyond the constraints of your budget then we would advise you to consider purchasing a used model. In many instances a used model can often be a better deal than a new unbranded model.
Unless of course you find an exceptional kayak with a quality build and a proven track record.