What better way to have a family excursion, or a solo adventure, than to explore a new waterway on a camping trip. Or maybe you'd like to clock-up those hunting, angling or watersports hours on a weekend boating excursion.
Boat Camping 101
An authentic boat camping trip, also called canoe camping or kayak camping, can be an exciting, rewarding and memorable experience.
But hitting the water for a sea, river or lake based camping trip takes preparation and planning.
Let's look at how you can enjoy a boat camping adventure safely and how to be prepared so you get the most from the experience.
You, your boat and the stars
Camping on a boat is an activity that has been indulged in for centuries.
Although these days it is a favored leisure pursuit, especially in North America, it has its foundation in practicality.
Back in the early days of the settlers, travelling by boat on rivers and creeks was the fastest way to get from Point A to Point B .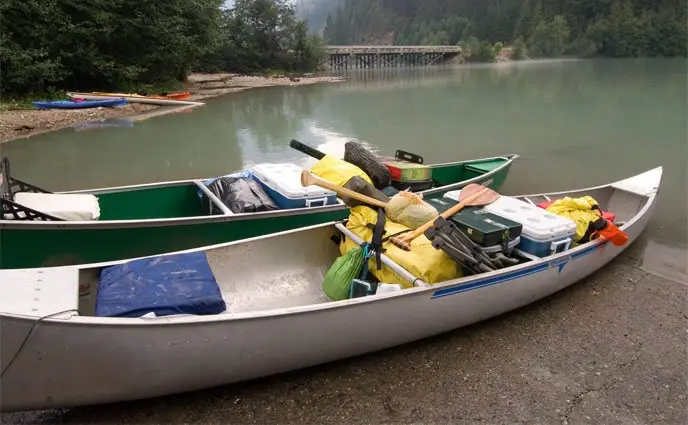 A boat was often the only means of "safely" accessing new territories and areas.
Of course I use the term "safely" as a relative term as the pioneers encounter many water and non-water related dangers on such trips.
These days boat camping is less of a necessity and more of a fun activity.
Modern boats offer easy movement on the water and any piece of safe, sheltered shoreline can become your own exclusive impromptu campground.
However, some preparation is needed and some precautions must be made.
Let's now explore everything you need to know about boat camping so you can enjoy an experience that offers much more than just camping out in the wild.
What boat camping involves & how it's commonly done
What is boat camping?
Simply put, boat camping comes in 2 basic forms:
It's like regular camping but you use a boat to reach your camping destination instead of a road vehicle. This allows you to access areas that would be difficult, or impossible, to visit due to a lack of roads and/or unsuitable terrain for wheeled vehicles.
You use your boat for both travelling and for sleeping.
Although many boat camping enthusiasts will deck out a canoe or kayak to act as both transportation vessel and as sleeping quarters (see image below) most boat camping involves the use of a regular tent.
The tent is pitched on land close to the shoreline of the body of water that you are boating on.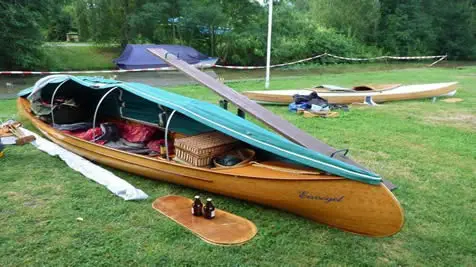 Boating has always been a well-loved recreational activity and is actually strongly linked to ordinary camping.
The first surge in the popularity of recreational camping on the waterways is thought to have been started by British Victorian pleasure boaters along the River Thames in the United Kingdom.
In the beginning this camping was not always accompanied by boating but soon evolved to incorporate boating.
As the camping setups of the Victorians became increasingly elaborate, it was necessary for equipment to be towed by boat along the river to service their campsites.
As boats became more popular as a means of transporting equipment it was a natural progression for the campers to use the boats themselves to travel to their camping destinations.
Soon watercraft were designed not only to aid in land camping but were actually designed so they could be converted into floating tents.
Thus boating soon became a part of the overall waterway camping experience.
Although boat camping died in popularity in Britain across the Atlantic, closer to home, it is a different matter.
The near unrivaled beauty and variety of the waterways available in the USA and Canada, coupled with many favorable climate zones and a myriad of different land environments, means that boat camping is a popular pastime in North America.
It truly evokes the pioneer spirit and sense of adventure enjoyed by previous generations.
Although many boat campers will seek rivers and waterways that offer a challenge there are many popular and well-known locations used for boat camping.
For example, Georgia lake camps and Florida beach dune camps attract a lot of annual holiday makers due to their warm climates, lesser ventured (but fairly safe) waterways and beautiful vistas.
4 Popular Vessels Used For Boat Camping
Any well-built and safe vessel lends itself well to carrying camping equipment.
Some boats are even suitable for on-water sleeping (especially if it is a large vessel equipped with a galley and on-board toilet).
Obviously sea voyaging requires a different type of boat to that used on inland waters as such a boat will require a much deeper draft.
Deep draft boat however are not at all suitable for inland waterways that tend to have areas that are too shallow for such a boat to navigate.
To understand the difference between deep draft and shallow draft boats read this article.
A sea or touring kayak for example, would be the perfect vessel for boat camping when traversing open water.
A canoe, Jon boat or a flat bottomed kayak would be a much better choice for rivers, creeks and lakes.
Although any modern boat can be used for boat camping by far the most popular boats used for camping are kayaks and canoes.
This is because they are well suited to inland waterways.
Canoe boat camping
Canoe boat camping is probably the most common type of waterway camping in North America.
A canoe offers incredibly stability on the water in addition to having a large storage capacity.
A canoe also helps create an authentic boat camping experience as the pioneers would have used such vessels in their travels.
We covered the versatility and advantages of using a canoe here.
Kayak boat camping
A kayak is another extremely popular vessel for camping.
Its modern design features offer many of the same advantages as a canoe even though it has a different hull design.
Although usually smaller than a canoe it has a lot of advantages that make it an ideal vessel for boat camping.
Kayaks also come in a variety of different hull designs making them an extremely versatile vessel capable of handling just about any type of marine environment.
For a better understanding of the advantages of using a kayak read this article.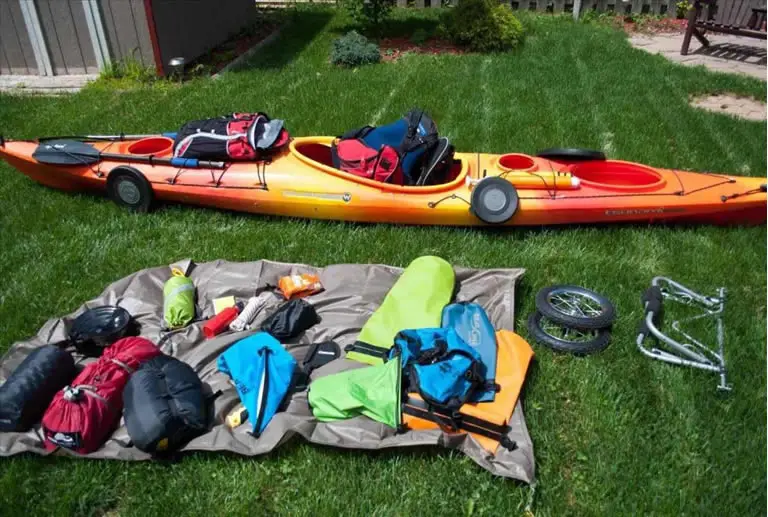 For a comparison between a kayak and a canoe and to see which one is the best choice for you read our article Canoe vs Kayak.
Although both a canoe and a kayak can be fitted with an outboard motor with some minor boat modifications, they are almost always manually propelled.
This means you have to put some effort into moving your boat on the water.
If a kayak is the type of boat you want to use for your boat camping adventures then to find the best type of kayak for your needs read this article.
Powerboat camping
Powerboat camping is often preferred by campers who don't want to exert much physical effort while on the water.
In a powerboat the engine does all the "heavy lifting".
Powerboat camping is less popular than kayak and canoe camping as powerboats are restricted on certain waterways and are unsuitable for others.
However, they are hardy vessels that are more than adequate for getting you to your campsite safely or for sleeping on the water and they provide more than adequate storage.
Jon boat camping
Jon boat camping is a fantastic way to combine the versatility of kayak/canoe camping with the effortlessness of powerboat camping.
As a Jon boat is a great choice for use in rivers and creeks due to its unique design (as we outlined here) these versatile flat-bottomed, shallow draft vessels are adept at navigating very shallow bodies of water.
They are also excellent for beaching reliably.
With the use of a trolling motor and a paddle a Jon boat can quickly be transformed from an engine powered vessel to a manually propelled vessel.
This means you can make headway quickly in fairly deep or open waters via use of the motor but can easily switch to paddle power when your boat enters very, or extremely, shallow areas.
Jon boats are the ideal vessel for inland-waterway boat camping.
The Best Places To Go Boat Camping
If you intend to sleep on your boat then anywhere where there is a body of water is perfect for boat camping.
If you plan to boat by day and sleep on land at night then you will obviously need to be navigating waters that have adequate access to suitable camping land.
For example, travelling down rivers with steep rocky regions on both sides would obviously pose camping problems.
One of the best things about water-based camping is that you can experience less accessible areas than you would be able to by road.
This can offer you a more authentic camping experience along with a lot of peace and quiet.
However, this comes with its own challenges.
Finding the right anchorage is one of the key components you need to get right when planning a successful boat camping trip if you don't intend to sleep on your boat.
National and state parks and recreation areas are an ideal choice for waterways and lakes with points of outstanding natural beauty.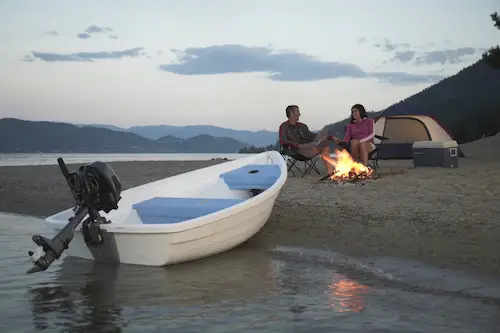 More often than not these parks will have some setpoints or sites that have been made available for campers.
Many locations are suitably developed for this purpose with access to slips, fresh water, electricity and with pump-outs available.
Campgrounds setup off open water, rivers or creeks may also offer excellent boat camping opportunities.
For access to such sites all that is required in the purchase of dock permits which will allow you to make use of all the available facilities and amenities.
If you prefer a more authentic experience and want to venture well of the beaten track then at the very least you should pre-plan your trip.
Do this by researching the area you intend to boat on to ensure the terrain offers you enough opportunities for on-land camping.
However, you can never over-plan an excursion "into the wild".
Essential boat camping gear you shouldn't forget
If you are preparing to hit the water for a summer trip or weekend excursion, it is important that you plan your excursion.
Ensure you have the correct boat camping equipment and adequate supplies for your trip.
Boat camping offers increased accessibility to varied terrain that may not be readily reached by a well-maintained road (if a road is available at all).
So if you get into trouble it may be some time before help comes.
A lot of locations that are described as offering primitive camping will have, at most, a place to start a fire and pitch your tent.
There will be little else available at such a site.
Therefore, you must always ensure you are adequately equipped for all eventualities.
However, be aware that packing for a boat camping trip does not mean packing everything but the kitchen sink!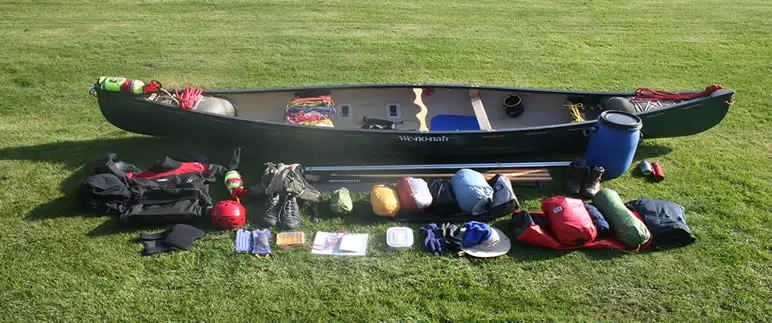 Packing your boat requires some careful consideration to ensure you have everything you need but not so much that you risk your boat becoming overloaded.
There is a thin line between packing what you need and overpacking.
The following list if items are essential pieces of boat camping gear you'll require.
These items are for your safety, warmth and comfort while out on the water and camping by the shore.
Essential items to include in your boat camping kit
A tent – you may require a regular on-shore tent or if you choose to dwell in your vessel a specialist boat tent which will provide suitable daytime shade and nighttime coverage. This type of pop-up beach tent is excellent for boat camping as its lightweight, takes up very little storage space and easy to deploy.
Pelican cases for keeping electronics and navigational equipment dry.
Dry bags for clothing, bedding and towels.
Water filtration or fresh water supply. It is important to keep extra potable water on hand in case of an emergency or have some form of filtration system so you can drink untreated water from the local environment. By far the easiest options is to carry cheap water pouch emergency rations. You can last about 3 weeks without food but you won't last more than 4 days without water, so put some in your pack!
Food. Although you may plan to fish and hunt while you are camping make sure you have emergency rations just in case – especially if you are camping alone. If you are unfortunate enough to sustain an injury that prevents you from acquiring your own food you will want to stay hydrated and have enough calories to sustain you until help arrives. Lightweight cheap emergency food rations that pack a whopping 3600 calories covering a full days daily need are an excellent addition to any survival kit.
Camping chairs and table for sojourning comfortably on-shore. Make sure they are foldable and lightweight.
Lightweight illumination. Lighting is an all-too-often overlooked component of boat camping. Lamps and lanterns may be a great way to create a campfire feel but carrying them in your boat is just adding excess weight and may even send you over your boat weight capacity. Unless of course you have a cheat – You can free up a lot of space for boat camping with a bit of creativity in the gear you stow – like these neat inflatable solar lamps!!!
Sun protection such as hats, long-sleeved and long-legged clothing and lotions are good to have.
Insect repellent – seriously don't forget this.
Life vest or Personal Flotation Device – an essential item, especially for use on open water or on waterways that may have whitewater rapids or in areas where the weather can change suddenly.
Physical and GPS navigation: in the event of electronic failure, you should have a physical map of your location and the surrounding region.
Flares – flares may seem like overkill on a camping trip but when you access areas by water that are not accessible by road vehicle you may be a long way from civilization. Should you get into trouble, a flare may mean the difference between quick rescue or a long wait.
Manual propulsion aid. A paddle should always be carried in case of motor failure. An additional paddle on manual propulsion boats should always be kept in case you lose or damage the main one.
VHS radio is essential for weather updates and as a means of communication as mobile phones may not always work where you are headed.
Lanterns – Although a torch is a good idea battery-powered lanterns do the same job but can also act as both camping lights and boat navigation lights when it gets dark.
Duct tape for last minute tent repairs and a quick sealant.
Anchor and navigation lights to let other vessels know where you are moored overnight.
A portable toilet. This is not an essential but may be preferred for proper sanitation while you are boat camping. Ensure that you dispose of your marine toilet waste by pumping out your toilet in accordance with local, state and national regulations.
How to find boat camping spots near you
If the idea of camping while cruising some beautiful shorelines interests you then you may be looking for your ideal location to weigh anchor or beach your boat.
The best place to start looking is at any one of the outstanding State and National Parks across the US which offer various forms of camping.
Our UK readers will already know that in the UK boat camping is less popular, with the canal boat experience being the preference.
In North America boat camping is huge.
In the US most States have bodies of water that are ideal for boat camping.
Some sites like Lake Roosevelt, in the Washington National Recreation Area, offer well developed boat camping facilities such as boat-in campsites.
These type of sites require the purchase of a permit for launching your vessel so you will need to cover that expense along with the routine costs associated with camping.
Most often, these are used on a first-come, first-serve basis.
The adventure you get from "off the beaten track" boat camping, may be missing from State boat camping sites but this is offset by the increased safety offered and the easily accessible amenities on-hand.
You will also have less freedom to do as you please when using State operated sites.
They do have some rules that must be adhered to though they are based on fairly straightforward common sense advice and easy to follow.
For example, you must always follow local regulations and guidance when starting fires.
This is obviously to avoid starting a wildfire (regulations that should be self-imposed even when out in "the wild").
To find boat camping sites near you start by looking at your nearest local park website and use Google to search for boat camping sites close to your location.
Some Boat Camping Tips And Advice
Correct mooring is essential
When mooring a larger vessel make sure that you moor beyond areas of routine marine traffic.
Avoid proximity to other boats to avoid collision when mooring and when moving off.
You should aim to be within 200ft of the shoreline.
When using a smaller vessel such as a canoe, kayak or Jon boat make sure you beach your boat well away from the shoreline.
Then secure it to the ground so it doesn't float away should you misjudge the tides or heavy rain/watering causes your boat to slip into the water.
Always prepare a boat plan
For your safety, it is well worth preparing an itinerary with dates and destinations.
This itinerary should be retained by relatives/friends or your marina.
This way someone knows where you are or where you were headed should you not return to a designated area at an appointed time.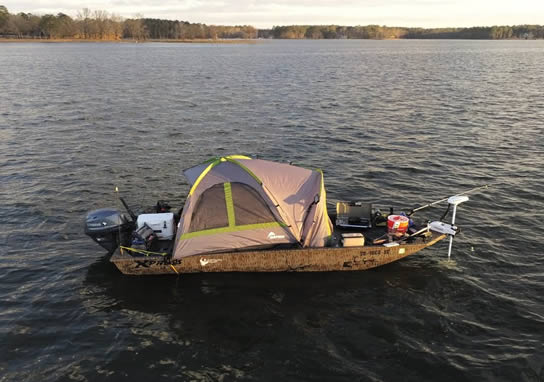 Using a strict itinerary may take away from the freedom and adventure you would feel if you were just "following your nose" having one could literally save your life.
If the thought of having a preset route just robs too much of the fun then at least have an itinerary of dates and if possible a rough guide to where you intend to go.
Always check you equipment is working correctly
All equipment should be thoroughly checked before you embark on your trip, from your tent to your paddle.
These checks are especially important when it comes to electronic safety equipment!
Check your radio is working. Don't rely on a cellphone, VHF is best.
Consider having GPS for your navigation and attach a sonar on larger boats to ensure your boat is not damaged by underwater obstacles.
Remain vigilant and check the weather regularly
Overlooking a simple weather check could be dangerous.
On the water, even on some inland waterways, the weather can be unpredictable.
Water conditions can change and deteriorate quickly.
So, have a suitable device at hand, such as a longwave digital or analogue radio, so you can listen to weather reports.
Also, visually observe the conditions – if it looks like bad weather is coming head for shore and pitch your tent.
The golden rule of boat camping is: if there is any sign of poor weather, it it prudent to get off the water and to a place of safety.