Imagine experiencing the freedom of a caravan/RV holiday/vacation but on the water. Across Europe, and in Ireland and Britain, canal boat getaways are very popular and for good reason. But what can you expect from the canal boat experience?
A canal boat experience is like no other. A canal boat holiday offers the flexibility of a caravan or RV without having to deal with road delays.  It also gives you the ability to see different parts of a country at a slow enough pace to enjoy it; the travel actually becomes part of the experience rather than a means of getting from point A to point B. Living on a canal boat offers a different experience that has both advantages and disadvantages.
What to expect from a canal boat holiday
A canal boat holiday, whether on a narrowboat in Ireland, England, Scotland or Wales or a river boat in Germany, France or Holland, offers a relaxing way to see the country and experience a different way of life.
What's more it allows you to be mobile enough to see different parts of a country without the downside of road or air travel; while you are travelling you get to enjoy the scenery without having to do much work and without having to focus intently on your vehicle, the road and other road users. The travel becomes a part of the experience rather than a means of moving from one spot to another.
Using a narrowboat in the UK will require you to become acquainted with locks and how they operate but aside from that slight learning curve operating a narrowboat is very simple and easy to do. A river boat canal cruise in the USA on the other hand is usually pretty straight "sailing", as it is in many parts of Europe.
There are usually a ton of things to see and do on a canal boat holiday and they are not restricted to the water.
As canal routes were designed to link towns and cities so you can expect to encounter many different and interesting places during your journey no matter where you choose to take your boat. You have the opportunity to stop at many different modernised towns or old villages while enjoying some beautiful countryside before you get there.
Most towns will offer a myriad of different things to do from fine dining and shopping to nature-walks and museums.
There is also the opportunity to engage in some historical sight-seeing especially on a narrowboat in Britain and Ireland or in the canals of Europe. It is not an unusual sight to you see a castle, fort, siege tower or ancient monastery pass you by as you motor along a canal or river.
Many people bring bicycles with them so they can enjoy cycling along the towpath when they park their boat or so they have a means of going further afield into the countryside or on sight-seeing adventures.
As you will have no road vehicle, taking a bike with you on your canal boat is a good idea as it will give you the opportunity to visit interesting places that are slightly out of walking distance. This is especially useful if you have children with you.
If you are interested in this type of vacation read the article 10 reasons to choose a canal boat holiday this year.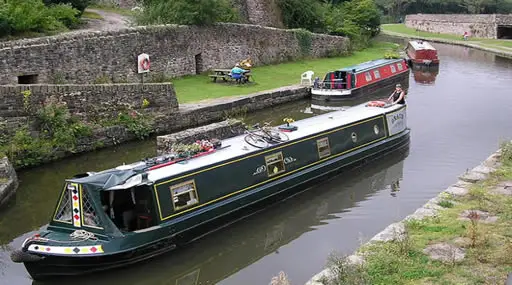 Do you need a license or special training?
No license is required to operate a narrowboat in the UK or Ireland, the top 2 destinations for canal boat getaways, though a small amount of on-boat training (about 10 minutes worth when you pick the boat up) and a degree of common-sense are needed.
As your speed is restricted to 4 mph in the, British Isles, you will have plenty of time to acquaint yourself with the controls and to get to know your boat before you encounter any challenging situations (if you ever do).
A narrowboat is very easy to drive and steer. At the back of the boat is the tiller that is used to steer the boat. This is a large stick-like controller that you use to guide the boat.
In other parts of Europe you will have the chance to choose larger and more powerful boats, such as a river boat, though the top speed is usually restricted 8 mph or less. These boats require no licence or special training either. Again a few minutes guidance on how to operate the vessel will be given to you when you pick up the boat.
Larger types of canal and river boats use a different a steering mechanism from a narrowboat, such as a steering wheel which you will be familiar with if you drive a road vehicle – the steering wheel operates in exactly the same way.
Regardless of the boat you will be using, when you pick-up your boat you will be given some basic operating instructions and this is more than enough to set you on your way.
Types of canal boats
In the UK and Ireland you will almost certainly be using a narrowboat.
The canals in the British Isles are both shallow and narrow. As part of the canal system you may also have to navigate extremely narrow aqueducts, (a truly amazing experience), that are not much wider than the boat.
Because of the narrow nature of the canals in the British Isles narrowboats are designed to fit into the narrow canal systems and so are unlike any other type of canal boat. They are no wider than 7 ft but can be as long as 70 ft with the smaller boats being 30 ft long.
This stretched length and slender width gives a narrowboat a very distinctive look.
Although narrowboats can be found in the canals and rivers of many European countries, such as France, they are not as common as they are in the British Isles.
In Europe and other parts of the world you will have a choice of other types of boats and may, or may not, have the opportunity to travel on a narrowboat depending on where you are and the fleet of the operator you book your vacation through.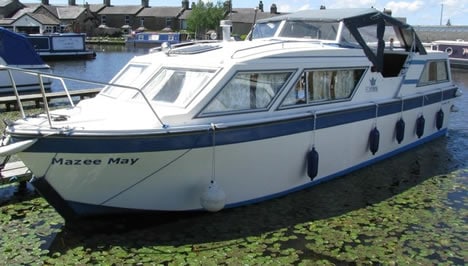 Living on a canal boat
Some people choose to shrug off the shackles of modern living and adopt a more water-based existence away from mortgages and high rental prices. Though  living on a canal boat is not as minimalistic as you may imagine.
Modern canal boats have running water, electricity and most of the mod cons you would associate with an apartment.
Buying a canal boat is cheap compared to buying an apartment or house and the running costs can also be a lot less expensive. However, it does not come without its disadvantages.
To see how living on a canal boat compares to life on land we will look at an example of living on a narrowboat in the UK.
Living on a narrowboat
In Britain buying a narrowboat instead of a bricks and mortar home (UK homes are made from brick and not wood like they are in most parts of the USA) is becoming very popular. People who choose to live in unconventional ways have increased in number across the UK, especially after the financial collapse of 2008 that led banks to become more stringent about giving first-time buyers a mortgage.
In the UK a medium-sized 40 ft narrowboat can be bought for approximately £15,000 ($20,000) while the price of a house is closer to £200,000+ ($260,000).
Although buying a boat and living on a canal may seem like a smart way to become a homeowner, setting up home on a canal boat does not come without its disadvantages especially in the form of upfront expenditure and unexpected hidden costs.
In addition, in the UK buying a boat cannot be done via a mortgage. To fund the purchase of the boat a person must either pay the total cost in one lump sum or secure a personal loan. Unfortunately, the average lowest interest personal loan is substantially more expensive than the highest interest mortgage.
This mean if you do not have the available funds to make a purchase outright you will only be left with the option of a high-interest expensive personal loan with large monthly repayments.
The financial problems do not end there though.
Life on a canal may sound romantic and carefree but more often than not people who live on canal boats must stay put in one place. The responsibility of paying for that boat and its upkeep requires you to have a job and for the most part that job will be located in one place. So, this means that you and your boat must stay in one place also.
Having to stay in one spot requires that you moor your boat.
There are usually hefty mooring costs associated with keeping a canal boat in one place and in large cities such as London mooring spots can be hard to come by. You may be required to pay out a large sum of money just to secure your spot before you even pay a penny in mooring costs.
Mooring costs are also expensive and can add up to thousands of pounds in fees each year.
In the UK prime mooring locations in metropolitan areas, in cities like London, often have a 5-year waiting list. If you are lucky enough to land a spot you will then have to pay £1000+ ($1,300) per month in mooring fees and that is before you pay anything towards amenities.
Amenity charges, like plug-in electricity, fresh water and septic services, cost extra.
What's more, these costs do not include any permits/licenses and boat insurance you may need.
Then you also have the winter to contend with.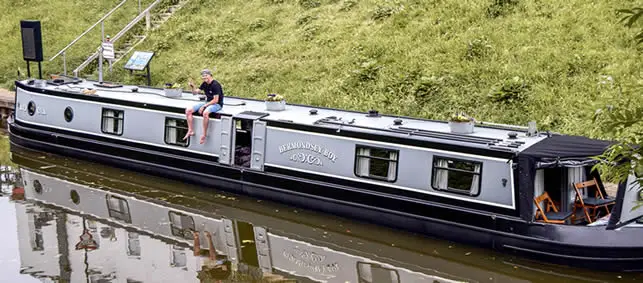 Living on a narrowboat in winter
Luckily the British Isles don't experience long severe winters so the colder months on a narrowboat are not that bad. Only in unusual circumstances does that area of the world experience more than a week of iced canals and rivers.
However, very severe winter conditions are not unheard of. In fact, it was only as recently as 1962 that Britain experienced such sever icy conditions that the weather ended the canal system as a viable commercial enterprise. As I noted in another article, canals once played a pivotal role in the economy of Britain and Ireland. They were the main means of transportation for freight between towns. And without canals it is unlikely the industrial revolution would have occurred so swiftly and been so instrumental in the changing British landscape.
Luckily, the British canal system has been lovingly restored in recent times by volunteers and has been enjoyed by the British, along with many other nationalities, ever since. Americans who experience a narrowboat holiday will have something to talk about for the rest of their lives.
But, time for less talk about the past and more focus on the present – back to winters on a narrowboat.
Although the British Isles do not experience bad winters in the way other parts of the world do, their winters are still cold and bring with them icy cold, biting winds. So, how do you deal with a narrowboat in the winter?
The first thing to do is to wrap up. You aren't in a centrally-heated house and boats can get very cold. Extra layers of clothes and warm gloves are "a must" especially when you need to tend to things on deck.
Most narrowboats are equipped with working stoves that run on coal and it is important, not just to keep yourself warm, but to keep your boat warm as well.
Make sure you have enough fuel to run the boat and enough fuel to run the stoves throughout the winter months. Be sure to check the availability and schedule of coal deliveries. Always make sure you have some surplus during the winter in case there is a delay with deliveries. You do not want to be snowed-in or iced-in without fuel or coal on a narrowboat!
No matter how cold it gets do not block the air vents or be tempted to use portable gas heaters as the build-up of carbon monoxide is dangerous and could even be fatal – remember you are in a confined space.
When you are getting on and off the boat be very diligent and look for icy patches on walkways and ladders etc.
If you plan to move the boat during the winter check the canal for ice. Thin ice is fine to boat in but if there is thick ice you should not attempt to move your boat.
Also be aware that locks may also be icy and you will need to wear gloves when operating them and watch for ice around the spindle when using a windlass.
You may also want to read our article outlining the canal boat essentials that every narrowboat should carry.