The popularity of Jon boats is increasing especially among the circles of freshwater anglers, hunters, and people who see value in using this vessel to perform utility work. The cost for buying a Jon boat can vary from very cheap for a small one-man basic build to very expensive if you want to buy a heavily modified boat with lots of extras. In this article we will cover the costs of buying different types of cheap Jon boats.
What is the cheapest Jon boat?
The cheapest new Jon boat is a polyurethane 12ft Pelican Intruder which can be picked up for as little as $499.
A smaller sized 10ft aluminum Jon boat can be purchased used for about the same amount.
The cheapest 14ft Jon boats can be purchased new for less than $2,000.
Even the cheapest 21ft Jon boats can not be bought new for less than $15,000.
By far the cheapest Jon boat is one you build yourself from raw materials.
The demand for cheap Jon boats has driven down the price
Cheap Jon boats are becoming more in demand as there are growing numbers of people who need a great utility vessel but find themselves on a very strict budget.
Nowadays, a brand new 12ft Jon boat that is made from polythene ( a type of hard plastic used in kayaks) can cost less than $500.
However, a used aluminum Jon boat can be picked up for the same type of price.
Prices for used Jon boats will vary with length, age and construction material.
However, a caveat to buying a used Jon boat is the condition of the boat.
That is why buyers need be more cautious when shopping for a used boat and should always follow a buyer's guide like the one we created here.
In comparison, a new 20 foot – 21 ft Tracker Jon boat constructed from aluminum will usually cost about $30,000 or more with the cheapest options being the basic model of the Roughneck by Lowes that comes in at just under $15,000.
So, price largely depends on the size of the boat and its construction material and manufacturer.
If you regularly go bowfishing then the cheapest Jon boat customized for that activity is the 18 foot Tracker Grizzly, complete with shooting deck, that can be purchased for about $25,000.
By far the cheapest option for acquiring a Jon boat is to just to build one on your own.
When it comes to a home-build Jon boat, you will be required to invest more time on building it than money.
Let's take a closer look at the costs associated with:
A do-it-yourself Jon boat.
A cheap brand new Jon boat.
A cheap used Jon boat.
Guide to the costs of cheap Jon boats by material & size
The cost of a Jon boat greatly depends on how it is constructed and what fabrication materials are used for building it.
A cheap brand new Jon boat can cost anywhere from $500 to $40,000.
Cheaper boats are typically made from polyethylene, and will almost always be only 10 to 12 ft in length.
Some examples of cheap new Jon boats are given below.
Building a do-it-yourself wooden Jon boat is by far the cheapest option
When shopping for a cheap Jon boat, you are likely to come across friends or experienced boat owners who will tell you to just build your own boat.
Or if you are shopping online, you may be directed to an ultimate guide for constructing a flat bottomed boat like this one we created.
Estimated cost of a building your own wooden Jon boat
If you are considering constructing your own Jon boat then you will want to build it from wood.
Wood is both cheap and easy to work with while being an exceptionally buoyant material.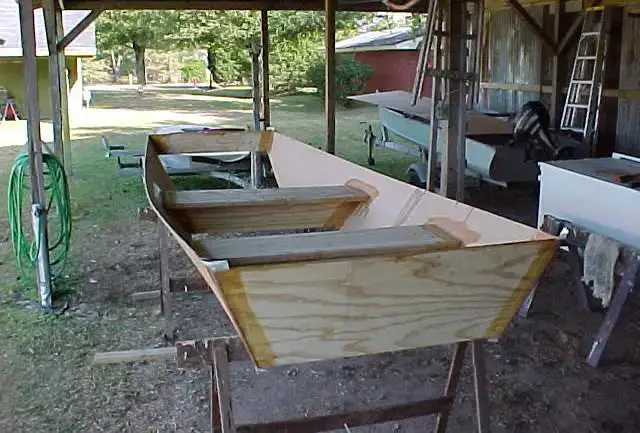 Below are some rough cost estimates associated with building a 10 foot flat bottom Jon boat:
Lumber – $600.
Fittings & hardware – $200.
Adhesives & epoxy – $250.
Total = $1,050.
Time – 60-75 hours split over a 3 month period (working spare hours and weekends).
The cost of building a larger wooden Jon boat would not be that much higher as you would just need additional lumber and adhesives.
Advantages of a DIY boat
One advantage of constructing your own Jon boat is the greatly reduced costs involved when compared to a new aluminum Jon. This includes add-ons.
By building your own boat you have the chance to make fairly cheap personal customizations to the vessel that would cost a fortune if requested from a manufacturer or dealer.
You are also much likely to end up with a boat that much better suits your needs, be it for utility tasks or recreational ones like hunting, fishing or even boat camping.
Of course the most significant advantage of a DIY Jon boat is the overall cost of building one. You are likely to source materials locally very cheaply.
Take plywood for example, which will form the hull of the boat.
This material is not only readily available but can usually be purchased in bulk for a bargain price.
The estimated cost of building a DIY wooden Jon boat will be higher than the cheapest used boat. But the capacity for customizations it offers, and the sense of accomplishment you'll get from making one, make it well worth taking on the project.
Disadvantages of a DIY boat
Constructing a Jon boat for yourself may be cheap but it is time-consuming.
Of course with a little preparation and patience you can build an excellent Jon boat that will last years.
But if you have the budget for an aluminum used Jon boat and are willing to do your due diligence when buying one then you will likely end up with a better and bigger boat.
What's more you will not have to wait to get on the water as you will have a ready-to-use boat.
Polyurethane plastic Jon boat costs
Polyurethane is a type of plastic that is very cheap to produce and easy to mold.
This type of material is used in kayak construction because it is hard wearing and cheap to manufacturer.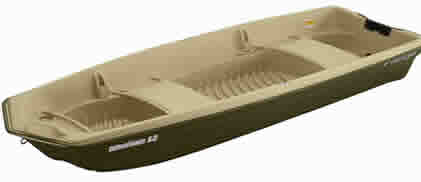 It should come as no surprise then to learn that the cheapest Jon boats on the market are made from polyurethane.
List of the cheapest polyurethane plastic Jon boats:
Pelican Intruder 12 – $500.
American 12 Jon – $600+.
Advantages of a cheap brand new polyethylene Jon boat
Here are some advantages of buying a cheap brand new polyethylene Jon boat:
Cheap
Impact-resistant
Polyethylene can be molded to any shape
Can be easily washed
Environment-friendly
Polyethylene Jon boats are generally cheap. This is one of the most important aspects when looking to buy a Jon boat.
If you are looking for a simple utility boat that can also be employed for fishing, hunting or boat camping, this is a go-to vessel.
Polyethylene Jon boats are also impact-resistant. Smashed into a rock or intently hit with a hammer, this type of boat material will not budge.
Jon boats made from this material are also molded to any shape and form.
Granted a Jon boat has a standard look to it, there are Jon boats that can have a wider hull or molded-in storage made from polyethylene.
This type of boat can also be easily washed and is environment-friendly.
Soapy water and scrub brush are your basic equipment when cleaning this kind of Jon boat.
Polyethylene boats are also good for mother earth because the materials used for building one is recyclable.
Disadvantages of a cheap Jon boat
We also listed some of the disadvantages for a cheap brand new Jon boat:
Cheap Jon boats are limited in size.
Cheap Jon boats do not look as sophisticated than fiberglass or aluminum boats
The structure of cheap Jon boats is limited to just 10ft to 12ft because polyethylene materials are not able to support larger boat designs.
Larger boats made from aluminum or fiberglass have exact tolerances that cannot be done from cheap boats made with polyethylene.
With that, the look of a cheap Jon boat can be obviously different from the ones constructed from fiberglass or aluminum.
Aluminum Jon boat costs
Aluminum is the most common material used in Jon boat construction.
Aluminum is tough, fairly cheap to manufacture and hard-wearing.
List of the cheapest Aluminum Jon boats by size
Where a price range is listed the cheapest price represents the base model with no extras or add-ons.
10 foot – Alumacraft 1026. $830 – $2,170.
12 foot  –Tracker Topper 1236. $895.
14 foot – Alumacraft Sierra 1436. $980 – $6,000.
16 foot – Grizzly 1648. $3,995.
18 foot – Grizzly 1860. $4,995
20 foot – Roughneck Big River 2070. $12,129.
Advantages of aluminum
Aluminum is not only tough and hard-wearing but , when it comes to Jon boats, it is easy to come by; most Jon boats are made from aluminum.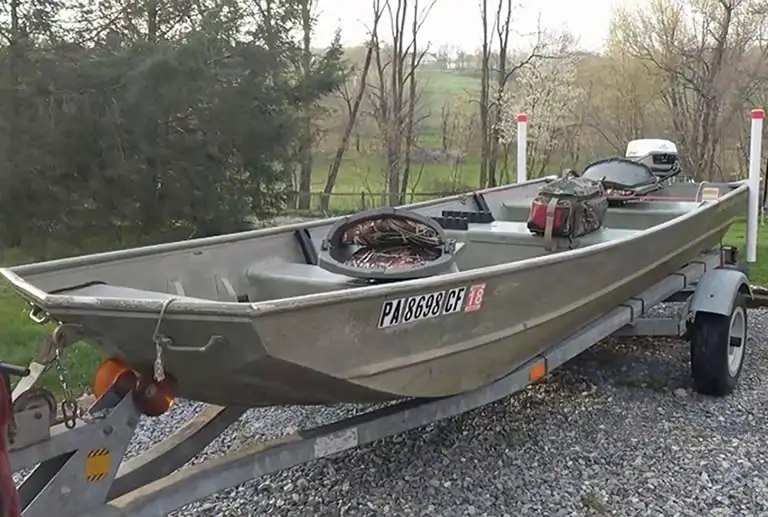 Therefore finding a cheap used Jon boat made from aluminum is much easier than finding a cheap one made from another material.
It also means that there are much more options and deals available on new models simply because aluminum Jons are more abundant in the market place.
Disadvantages of aluminum
Aluminum Jon boats do not fair well in saltwater.
If you want to use your Jon boat in bays or even in the ocean you will need to take precautions to protect your hull from galvanic corrosion.
Costs of cheap used Jon boats
Costs associated with buying a used Jon boat vary greatly.
If you are a beginner shopping around for your first Jon boat, online outlets like Boattrader.com can be your friend.
If you live in an area near water then you'll likely see one or two used Jon boats for sale in your local area.
A guide to finding cheap used Jon boats
An example of a used Jon boat you can buy is this 14 feet Jon.
This boat is made from aluminum, 14 foot in length and has the weight capacity of around 500 lbs.
All for the bargain price of just $500.
However, a similar Jon boat, also made from aluminum can cost as much as $8,000 depending on its year and where you buy it.
It is a good idea to shop around for a bargain and not to be too hasty ion a buying decision once you've found a few possible options.
Advantages of cheap used Jon boats
Large used Jon boats can be bought as cheaply as the lowest priced small brand new ones, but supply may outstrip demand making it difficult to find the type of boat you really want.
Prices will also vary greatly from place to place and depending on size, weight capacity, and construction build and year of build.
So it can be difficult to accurately price a boat in order to see if you are being offered a good deal or not.
However, now that we are living in a digital age of buying and selling online, with an influx of e-commerce sites and the rise of only communities devoted to boating topics, the chance of encountering a bargain is much higher than it was just a decade or two ago.
Buying used Jon boats is a prime option for experienced boat enthusiasts.
However, unless you know the seller, know someone who knows the seller or are buying from a very trusted website/source we would not recommend buying a used boat online.
You need to physically inspect a boat before you purchase it!
Although buying a used Jon boat can be considerably cheaper than buying a new one it does come with some risks even if you do physically inspect it before you buy.
Disadvantages of a cheap used Jon boats
The most significant disadvantage of buying a cheap used Jon boat is the possibility of hidden defects that go unnoticed at the point of sale.
That is why it is important to do your due diligence when inspecting a cheap used Jon boat.
We have written an ultimate guide for buying a used Jon boat here.
If you are a beginner to Jon boats or want a beginner boat then be sure to read our beginner's guide to buying a Jon boat.