Jon boats are very popular across the world with inland waterway users. Due to their stability, versatility, and their suitability for transportation and water-based utility work as well as for hunting and fishing their popularity grows each year. They have not only become popular because of their capacity for accessing very shallow waters but also because of their price.
How much does a Jon boat cost?
The purchasing price of a Jon boat will depend on its make, size, construction material and the number of modifications made to the boat.
A cheap 12ft polythene Jon boat can be bought for as little as $550 while an 12ft aluminum Jon boat can cost as much as $3000.
High-end 21ft Jon boats can cost as much as $30,000.
Typical cost of purchasing a new Jon boat
The cost associated with buying a Jon boat will greatly depend upon the size of the boat and its construction material.
Here is a quick guide to the typical costs for some Lowe aluminum Jon boats based on size:
10ft Jon boats can range in price from $700 to $800.
11ft – 13ft Jon boats usually cost from $850 to $1000.
13ft – 14ft Jon boats will typically cost between $1500 and $2,250
15+ foot Jon boats can cost from $2,500 to $3,250
17+ foot Jon boats with a 6 person capacity, such as the 17.5 ft L1852MT AURA for example, can cost as much as $3,800.
Before considering a Jon boat purchase you should give some thought to what size boat you need.
The construction material of the Jon boat is less important as regards price but may be of importance to you.
Aluminum Jon boats for example, will corrode quicker in saltwater than fiberglass or wooden ones though aluminum Jon boats are much more plentiful on the marketplace.
Of course there are cheaper Jon boats on the market if you don't mind skipping on the known brand names and usual construction materials.
This 12ft  Sun Dolphin American Jon boat is a perfect example of what the budget-conscious buyer can get for his money.
The Sun Dolphin retails for only $549.
While being made from cheap, but reliable lightweight polyethylene (like a kayak), it comes with integrated rod holders, a 2-seat cockpit and safety polystyrene foam under the deck (so the boat floats if capsized) and meets all CE and US Coast Guard safety standards.
As you can see, you don't have to break the bank to get out on the water.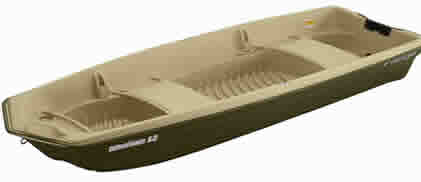 Example costs of popular Jon boats
Below are a few examples of the costs associated with specific Jon boat makes and models.
Typical costs of buying Tracker Jon boats
Below is a small selection of Tracker boats with their cost.
Tracker ® Topper 1036
$739
9″
Durable forest green powder-coat finish for good looks and a long life.
Flat-bottom, solidly riveted aluminum hull.
.050 gauge 5052 marine aluminum alloy.
Pressed-in longitudinal corrugation.
Corner braces at transom.
2 bench seats (center & aft).
Underseat foam flotation (safety feature if boat sinks).
Bow & stern handles for lifting.
3-year limited warranty on riveted structure.
Available from Tracker here.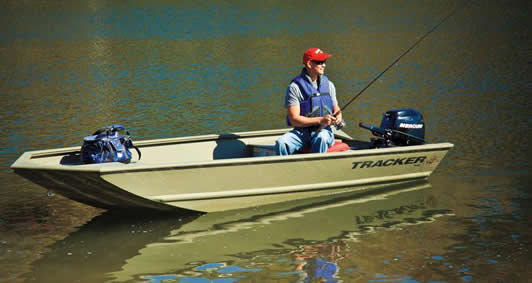 Tracker® Grizzly® 1448 Jon
$3,099
14″.
Aluminum construction.
7° deadrise, all-welded Mod V-hull (instead of flat bottom) for great handling & a smoother, drier ride in choppy conditions.
Stringer system & transom welded into the .100, 5052 aluminum alloy hull.
Welded-in, foam-filled interior side walls for quieter ride and increased structural strength.
2 built-in seat pedestal bases fore & aft (seats optional).
Lockable, top-loading bow storage compartment.
Available from Tracker here.
Typical costs of buying Lund Jon boats
Lund offers a variety of Jon boats from 10ft to 18ft.
Lund doesn't give out their prices on their website and neither do their dealers so it is often best to shop around for the best deal.
1448 Lund Jon boat
$2,304
14″.
Aluminum construction.
Transom height 15″ or 20″.
Weight 365 lbs.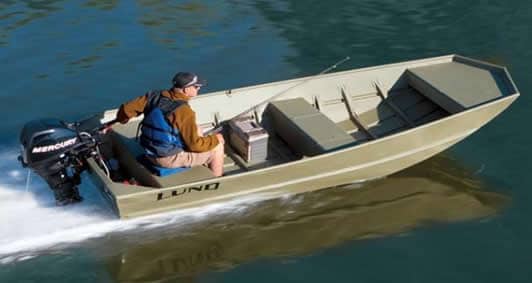 Other Jon boat manufacturers & their costs
I have outlined other manufacturers of Jon boats in my Jon Boat Buyer's Guide.
I urge you to read that article as it contains lists of manufacturers of aluminum Jon boats and fiberglass ones.
It also contains information for choosing the most appropriate Jon boat for your specific needs.
Costs of a Jon boat compared to other boats
Jon boats are not only popular because of their versatility and their capacity to traverse shallow waters but their price also makes them very appealing.
Jon boats are very cheap compared to other fishing and hunting vessels, such as a fishing boat for example which can costs anywhere from several thousand dollars to tens of thousands of dollars.
It can be difficult to keep the cost of a good fishing boat below $20,000.
Compared to bass boats, Jon boats are a lot cheaper.
Many anglers will buy a Jon boat and convert it into a bass boat as it is considerably cheaper than buying a one.
When you don't want to pay all at once finance may be available
Can you finance a Jon boat?
Like any large purchase there will also be finance options available, though they may not be directly available from the seller of the boat.
Just as you can do with a road vehicle finance, you can get boat-purchase specific finance.
Some major boat sellers will offer finance options at the point of sale and you need to enquire from them directly if this option is available.
Deciding on a new vs used Jon boat & the cost difference
Buying a Jon boat new is straightforward. The only caveat I would offer is that you shop around.
You may find the same boat, or a boat with similar specs, at a greatly reduced price from the first store you saw it.
Also consider buying online as you can usually get greatly reduced prices from sellers who have low physical overheads and can thus pass on those savings to you, the buyer.
Never buy a used boat online without physically inspecting it first!
And don't completely discount boats made from materials that you wouldn't initially associate with a Jon boat – like the the 12ft Sun Dolphin American polyethylene Jon boat I mentioned previously.
Obviously there is a large saving to be made by buying a Jon boat used instead of new.
There are many boat dealers who offer used Jon boats and finding buying opportunities is easy with a simple search online or through a local dealer.
However, if you intend to buy a used boat then you will need to make sure you understand how to perform some essential checks on the vessel before giving over your hard earned cash.
Follow my guidelines for buying a used Jon boat in my Jon boat buyer's guide.
If you don't have time to read that article below is a quick summary of what to look for when buying a used Jon boat.
Used Jon boat buyer's guide
When it comes to buying any type of used items some due diligence is need.
It is all too easy to buy a dude if you don't perform proper checks.
When it comes to buying a used boat below are a few checks you should perform before you hand over any money.
Inspect the boat for cracks and leaks.
Look for previous repairs that may have been carried out.
Test for corrosion.
Check the transom
Check the oar locks
Check for lose seating
Start the engine
Test the oil
Let's take a quick look at these safety checks in more detail.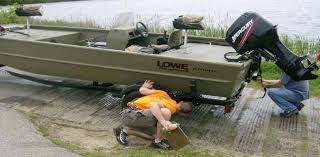 Inspect boat for cracks and leaks
Small hairline spider cracks, especially in fiberglass boats, are not really a big deal.
Often these cracks are cosmetic in nature and very easily fixed by applying a fiberglass fill with a cheap fiberglass repair kit like this one
.
If the cracks are larger than 2" then there may be much greater problems.
Large cracks could be an indication of a collision.
Multiple or large cracks, mold build-up, bending and moisture in fiberglass and wooden boats, such as in the hull, the transom, and the boat floor can often be a very bad sign.
Anyone of these could be a sign of rot in the wood, or deterioration of the fiberglass.
In the case of a plywood Jon boat it could indicate delamination of the plywood.
A boat with these problems is not worth buying.
How to check for leaks
Although a seller may not be too happy with you taking these steps he/she should have no problem if they are confident in the water-worthiness of their vessel, especially if it results in a sale.
Place the boat in some form of dry dock, on a trailer or stand for instance, and fill it with water to roughly the level of the waterline.
If the boat has leaks then the obvious will happen.
If the boat is leaking quickly then extensive repairs are needed and it may be a sign that serious damage has occurred.
If the boat is made from fiberglass then it's almost certainly not worth your while attempting a repair.
Move on and keeping shopping around.
If there are small, slow leaks coming from a bolt or rivet you should be able to complete those repairs yourself (while using it as a bargaining chip for a lower sales price).
Look for previous repairs on the boat
Large patches, such as fiberglass filler patches, are usually an indication of previous repair work.
If you see these you will most likely need to get someone qualified to look at the boat before purchasing.
If you don't have access to such a professional it may be better to pass up on the sale and keep looking.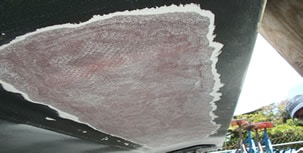 Test for corrosion
This is especially important if you are looking at an aluminum boat that has signs of peeling paint.
An aluminum boat that has peeling paint has most likely been used in saltwater and may be starting to corrode.
Lightly press the corroded area with your finger to see how stable it is.
Spongy areas are a bad sign and in really bad cases you may even form a hole at that spot.
If the corrosion is at a minimum then you will probably be able to complete repairs yourself but if the damage is more than superficial or widespread it is best to pass on that sale.
Check the transom for damage
You'd be surprised how many times this is missed.
The transom will often be the place where cracks and rot appear first so give it a good look over.
If transom needs replaced then you have 2 options:
Replace it yourself for less $50.
If you can't do the work yourself then you should walk away as repairs by a professional will be expensive.
Check the oar locks for corrosion
If the Jon boat is fitted with oar locks check the sockets for corrosion and cracking.
If the locks are loose it may be that the holes for the bolts have simply widened with use.
If these need repaired then factor this into your offer-price, though it is a fairly easy fix.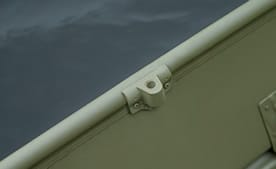 You will need to repair the bolt holes with the appropriate material for the boat and buy new oar locks.
If the oarlock sockets are loose due to corrosion, hold on to your money and go find a different boat.
Check for loose seating
Although loose seats can be simply due to the same problem encountered with the oar lock sockets – when the bolt holes widen through use – it can be an indication of floor rot.
The first is an easy fix.
The second means you should walk away.
Start the engine to make sure it runs smoothly
If the Jon boat is being sold with an outboard engine you should start it.
Is it hard to start?
Does it smoke?
Is it overly noisy or making clearly unhealthy sounds?
Test the oil for signs of engine wear
This is an often overlooked test.
Check the oil to see if it is gritty to the touch.
Gritty oil is a strong indication of extensive engine wear.
The grit is usually small metal shavings that have broken-off from the engine during use.
If the oil has a milky texture then water is getting into the engine and its days are numbered.
Cost of building a Jon boat
Building your own Jon boat is not difficult and its fairly cheap to do as it only involves the cost of cheap plywood and some fairly cheap materials such as glue.
Of course this is assuming you already have the correct tools available.
As long as you already have rudimentary woodworking tools you can build your own plywood boat for just a few hundred bucks as we demonstrated here.
The typical cost of maintaining a Jon boat
Some Jon boats are easier to maintain than others. For example, a fiberglass boat used for freshwater fishing requires much less maintenance than an aluminum boat used in saltwater.
A wooden boat will require the most attention, though not necessarily the most maintenance, to ensure it remains waterproof.
Regular checks on the paint work are essential and repainting and varnishing it when needed is recommended.
You will know when your wooden boat needs some TLC just by looking at it but as a rule-of-thumb give it a one-coat covering of varnish once per year and a sanding and full repainting every 3 – 4 years is advised.
If you keep an eye on your boat and give it regular maintenance check-ups then you will identify any potential small problems before they become big expensive problems.
A good maintenance schedule should help you keep yearly maintenance costs to a minimum. This is provided your boat is not involved in a collision or other unforeseen events damage your vessel, motor or battery.
The typical cost of running a Jon boat
The cost associated with running a Jon boat will be based on your motor usage.
In most cases running costs will be limited to gasoline charges.