The draft of a boat determines the depth of water that the boat can be used in. You may be aware of a shallow draft boat, that is  used to navigate very shallow waters, and a deep draft boat, that can be used in the ocean and deep turbulent waters.
What Is A Shoal Draft Boat?
A shoal draft boat is one which has a shallower draft than other boats of comparable size.
For example, a sailboat, which usually has a full length keel, may be said to have a shoal draft if it is fitted with a shorter keel.
A shoal draft boat can be used to navigate waters that are too shallow for a similar sized deep draft boat.
Thus a shoal draft boat can be used closer to shore and near shoals.
Why A Boat Can Benefit From A Shoal Draft Keel
Boats that usually need a shoal draft are ones that are used to sail through both shallow and deep bodies of water.
These boats are usually sailboats, catamarans, and yachts.
Shoal draft is usually used to refer to the draft of sailboat that is capable of being used in the ocean and in shallow areas near the shore or close to shoals.

Shoal draft is achieved through the use of a shorter keel, sometimes called a shoal draft keel or simply a shoal keel.
Having a shoal draft allows a sailboat to navigate through fairly shallow bodies of water, such as near shoals or close to the shoreline, as well as giving it the ability to remain fairly safe when out in deep open waters.
Mariners who regularly use their boats to navigate shallow water areas or areas with submerged banks benefit the most from a shoal draft boat.
Boats with shoal drafts give the mariner the ability to traverse shallower waters without running the risk of damaging the boat's keel and/or grounding the boat.
Three Common Types Of Shoal Draft Boats
Below are the three most common types of boat that have can have a shoal draft:
Yachts.
Sailboats.
Catamarans.
1. Shoal draft yachts
Yachts are normally used for cruising, racing, and recreational purposes. This is a type of boat is known for being a luxurious cruiser that is used in fairly local waters.
There are two types of yachts:
Sailing yachts.
Motor-powered yachts.
Many yachts will have a shoal draft because they are so often used near shorelines.
Many manufacturers offer the option of a full length keel, for those yacht owners who like long-haul ocean excursions and would benefit from having a deep draft vessel.
But, they also offer a shorter "shoal keel", in order to give the boat a shoal draft, to those mariners who like to cruise around gulfs, shoals and shorelines and other shallow areas of open water.
Sailing yachts have two more sub-classes which are:
Racing sailing yachts.
Cruising sailing yachts.
The main difference between the two above mentioned yachts is that the first favors better performance over comfort and the second is more focused on comfort rather than performance.
These types of yachts are oftentimes fitted with shorter keels so the boat has a shoal draft.
A motorized yacht can also be fitted with a shorter keel so the boat has a shoal draft for the same reasons a sailing yacht would need one.
The most common type of shoal draft keels are bilge keels, fin keels, and lifting keels.
3 examples of shoal draft sailing yachts with bilge keels are:
Hunter Duette.
Moody S31.
GT35.
3 examples of shoal draft sailing yachts with lifting keels are:
Ovni 36.
Feeling 326
Super Seal 26.
3 examples of shoal draft sailing yachts with fin keels are:
Sadler 54.
Bavaria 40.
Jeanneau Sun Odyssey 36.2.
2. Shoal draft sailboats
Sailboats are usually small sized boats that use wind power.
Not as luxurious as yachts, sailboats are often working boats used or fishing though they are commonly used for racing and recreational activities as well.
Sailboats are usually equipped with a shoal draft keel because it makes it easier to navigate the boat through shallower waters.
Giving a sailboat a shoal draft allows the boat to be more versatile in the water and opens up much more areas to the mariner.
Having a shoal draft on a sailboat gives the advantage of creating minimal dredging in shallow waters.
This capacity to navigate shallow waters is useful but not so much so that it comes at the expense of being able to the ability to traverse safely through an ocean.
Shoal draft boats cannot access the same type of very shallow water as a flat bottom or shallow draft boat.
There is a lot of variety and many different models to choose from when looking for a sailboat with a shoal draft.
Examples of shoal draft sailboats:
These are in fact two of the cheapest shoal draft sailboats on the market currently, both of which have a draft of 3 feet and cost around $15,000 apiece.
3. Shoal draft catamarans
A shoal draft catamaran is designed with two hulls.
This unique design results in a boat that has much more stability and balance over a traditional single hulled vessel.
The first catamarans were constructed of two logs lashed together like a sort of small makeshift raft, and later two canoes were lashed together to form the same type of vessel.
This type of primitive catamaran was originally designed as a fishing vessel and fashioned in a double-hull manner for extra stability on the water but over time their purpose has expanded.
Nowadays, you can see catamarans being used as ferry boats, as well as for recreational offshore and ocean-going sailing.
A cruising catamaran usually has a draft of less than 3 feet which allows it access to areas that are not usually accessible to traditional monohull boats.
Unlike other shoal draft boats, that have a shorter than normal keel (a shoal keel), a catamaran has no keel at all.
Some examples of cruising catamarans with a shoal draft are:
Seawind 1160.
Seawind 1260.
Although catamarans are considered to be ocean-going vessels the lack of a keel means that in very rough seas and very bad weather conditions, a catamaran may not fare well as a boat with a keel.
Summary: What A Shoal Draft Boat Is & Its Main Uses
In most cases shoal draft boats are boats that have a shoal keel that is slightly shorter than the standard keel of a similar sized boat.
This feature allows the shoal draft boat to navigate both fairly shallow water and deep choppy water.
Although a shoal draft boat is not capable of navigating the type of inland shallow waters that a flat bottom boat can, like a Jon boat for example, it does have the ability to navigate shallower areas than a deep draft boat can.
This is an advantage for people who want the capability of navigating through shallower parts of the water such as near shorelines, shoals or submerged banks but who do not want lose their ability to navigate ocean waters.
Usually the type of boats that have a shoal draft are sailboats, catamarans and yachts.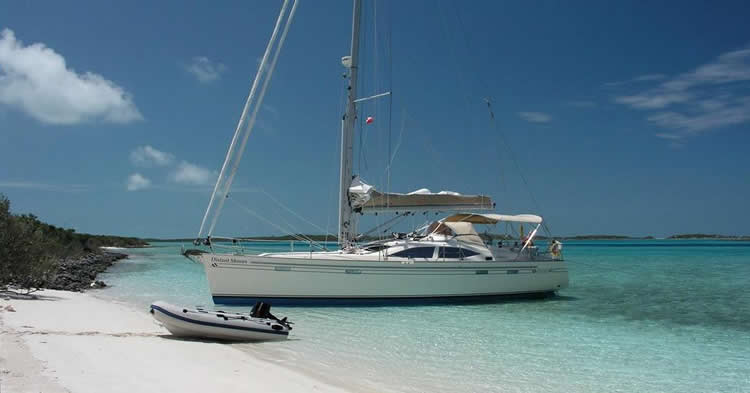 Yachts are usually used for cruising and recreational purposes near shorelines and thus need a shallower draft than ocean-going vessels of a similar size.
A sailing yacht. although capable of long-haul journeys, is a boat that is also usually used near shorelines or not that far out to sea.
These yachts therefore also benefit from having a shoal draft for the same reasons their motorized cousins do.
Shoal draft yachts usually have either fin keels, bilge keels, wing keels, or lifting keels. We covered these keel types in more detail in the article what is shoal draft.
Another type of a shoal draft boat is the sailboat.
Sailboats are usually used for racing, recreational cruising or as a working fishing boat.
A lot of people who own sailboats opt for a boat with a shoal boat because it offers a wider variety of water bodies to navigate and can be used close to the shoreline.
Catamarans are a type of sailboat that have no keel at all.
Due to the lack of keel, and fairly flat bottom hull which allows a catamaran to navigate shallow waters, it is said to be a shoal draft boat.
The two hull design of a catamaran gives the boat a lot of stability in the water and with a draft that is less than 3 feet, it is ideal for shallower open water areas.
A downside to a catamaran's shoal draft is that it not as stable in very turbulent waters when far out to sea.