A quick Internet search for airboat rides may leave you feeling disappointed if don't live near the Everglades or New Orleans but there's good news. It isn't just Florida and Louisiana that offer exhilarating airboat rides. Here are 35 exciting airboat rides from different parts of the country. Scan below for your state as you are never far away from a high speed boat ride.
Airboat rides exist in many different parts of the USA. From the tip of Florida and the swamps of the Mississippi to the Lone Star State's biodiverse estuaries and Seattle's Lake Washington, the USA has many airboat rides available.
Airboat rides across the USA
Although you'd be forgiven for thinking that high speed airboat adventures are only available in Louisiana and Florida there are a ton of hidden gems out there just waiting to be experienced as many states have companies that offer airboat rides.
Airboat rides are available throughout the USA not just in New Orleans and the Everglades.
For an airboat to be used safely all that is required is calm water and fair weather. So it should come as no surprise that airboats are popular throughout the United States.
Although not every opportunity to cash-in on this growing pastime has been seized by budding boat entrepreneurs (there are a few states that have a large amount of airboat owners but no commercial airboat tours), there are still many rides and tours available throughout the USA.
From Oregon at one end of the country to the tip of Florida at the other end there are some fantastic airboat rides and tours available. For ease of reading, and so you can find your state quickly, I have listed the states in alphabetical order.
Unfortunately, although airboats can be found in just about every state in the USA, not all states have airboat rides available. If your state is not listed then it does not offer airboat rides at the moment to the best of our knowledge.
If any of our readers know of good airboat tours in states that have not been listed please feel free to contact us and/or leave information in the comments section.
If your state does not offer airboat rides look to the next state over as you may find one that is not too far away.
Without further ado let's delve into these hidden airboat gems now.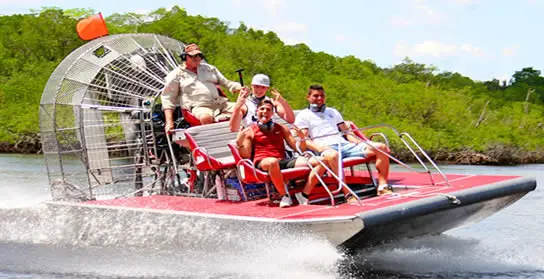 Alabama
Alabama has 2 great airboat rides worth mentioning.
Airboat Adventures
Airboat Adventures offer exciting high speed airboat tours on the Mobile-Tensaw River Delta.
As this delta is made-up of about 260,000 acres and is 40 miles by 10 miles in size there is a lot of area to explore.
The Mobile-Tensaw River Delta is the second largest delta in the United States and is one of the most biologically diverse regions in the USA. So, there is a lot to see from the mesic flood plains, cypress-gum swamps, tidal brackish water marshes, bottomland forests to the submersed grass beds.
They also have specially customized airboats for bowfishing enthusiasts.
Prices are cheap though they also offer more expensive fishing tours in the fall.
Vits Airboat Adventures website or call them on 251-680-4477.
Airboat Express
Airboat Express also operates on the Mobile-Tensaw River Delta.
They offer very reasonable prices for an hour long tour with all the same benefits that the Mobile-Tensaw River Delta has to offer.
Visit their website or call them on 251-370-7089.
Alaska
Airboat Alaska offers truly thrilling airboats rides through the Alaskan wilderness. They specialize in tours of the Taku glacier and river.
They take you to places that are only accessible via an airboat or helicopter!
As an airboat performs equally well on ice as it does in calm water this tour company, being located in Alaska, is in the unique position to offer you an airboat water and ice adventure.
As well as airboat tours they also offer helicopter and airboat/helicopter combination tours where you get to enjoy air, water and ice. This is truly a one-in-a-lifetime experience.
Visit Airboat Alaska website or call them on 907-586-2030.
Arkansas
Originally a company called River City Tours were set to give airboat rides on the Arkansas River but to date this does not seem to have materialized.
This is a shame as this part of the country has a lot to offer an airboat passenger as nothing could equal the stunning views as you speed down the river faster than any other boat could ever do.
California
This is one of those states that we think is missing a big opportunity.
Although airboats are very popular in California no-one has started an airboat tour company yet!
Florida
Florida is arguably the most famous part of the country for airboat tours.
The Everglades offer so much opportunity to see and experience a vast array of biodiversity and they look stunning.
Below are a few top picks for airboat tours in the Sunshine State.
Everglade City
Everglade City Airboat Tours are a very popular company that offer a very unique type of airboat ride in that you get full commentary throughout your tour via a two-way headset for no more cost than that charged by other operators.
Visit their website or call them on 1-877-222-6400.
Orlando
Wild Florida Airboats offer everglade boats tours from Orlando.
As well as the amazing airboat tours they have what they call their Gator Park. In the Gator Park they have over 200 animals on display, including exotic animals like zebras, sloths, lemurs and Watusi, just to name a few.
This is a great place to visit with kids.
Be sure to check out their deals page to see if you qualify for a discount.
Visit their website or call them on 1-866-532-7167.
Inverness
Wild Bill Airboat Tours offers an airboat ride on the Withlacoochee River. This river is very unusual because it flows north to the Gulf of Mexico. Its over 150 miles long and much of it flows through the Withlacoochee State Forest so there's plenty to see.
Wild Bill Airboat Tours is very kid friendly and the extremely large airboat you'll be on gives a feeling of added stability and safety.
Visit their website or call them on 352-726-6060.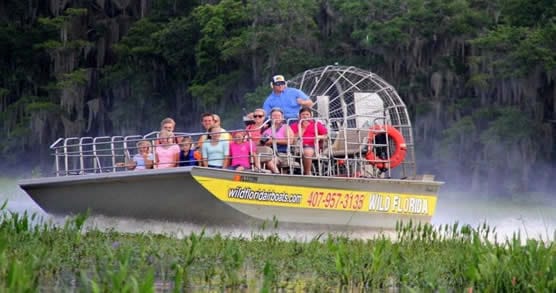 Georgia
What better way to see beautiful Georgia than on an airboat thundering on the waters of Tybee Island.
Tybee Airboat Tours offer high speed tours of the marshland areas on Tybee island just south of Savannah. On one side you have the mainland USA and on the other you have the vast Atlantic Ocean. This location has given rise to a unique and breath-taking location.
The airboats don't just offer the exhilaration of high speed on the water, they also allow you the opportunity to visit areas that are not easily accessible to other powered boats.
As well as experiencing the thrill of travelling on open waters, you will also travel through the shallow creeks in the marshes surrounding Tybee before landing on the beach.
To respect the wildlife the airboat does not directly travel through the marsh grasses, and the company is keen to stress that the airboat is not hazardous to manatees and other sea life, as there are no propellers in the water.
Visit their website or call them on 912-661-5225.
Idaho
Swan Falls Excursions began offering airboat tours on the Snake River back in the early noughties.
Unfortunately their website is no longer online and there are conflicting phone numbers for them. We did discover that Swan Falls Excursions are in fact a subsidiary of Hells Canyon Adventures. So, if you are interested in finding out if they still offer airboat tours in Idaho use the information below.
Visit their website or call them on 800-422-3568.
Illinois
Airboats are popular in Illinois with more than just tourists and boat enthusiasts.
Law enforcement train their personnel in airboat use along the Fox and Illinois rivers.
Unfortunately no-one has jumped into this massive hole in the market for commercial airboat rides yet.
Indiana
Indiana fairs much better for airboat tours than many other no coastal states.
For just $20 you can get a high speed 20 minute ride on an airboat down the Maume river on Airboat 1 (clever and neat name).
Airboat 1 also offers fishing charters and longer duration tours all year round.
Vits their website or call Mike on 260-417-3249.
Iowa
Although there are no airboat tours directly from Iowa there are 2 companies based in Nebraska that offer rides and tours on the Platte river. So this may be of benefit to Iowa residents.
See Nebraska below.
Kentucky
Po' Boy Airboat rides is a company situated near Mammoth Cave, Kentucky. They offer airboat rides on the Nolin Lake and Green River in Brownsville.
At The time of writing it is $30 per 30 minute ride.
You can contact them via Facebook for rates and to make an appointment or call them on 270-202-1698.
Louisiana
Louisiana, like Florida, is synonymous with airboat rides. So, it should comes as no surprise that there are many rides available.
We have listed two of the very best below.
Wildlife tours
One of the most popular airboat tour operators in the state is aptly names Airboat Tours.
Airboat Tours offer trips through swamps, over marshes, and through moss draped trees where you will see a wide variety of wildlife and birds such as hawks, egrets, herons, and occasionally bald eagles.
You will only get to see alligators from February through November so plan your trip accordingly.
Airboat Tours are located just 45 minutes from downtown New Orleans and are only 15 minutes away from the nearest plantations in Destrehan.
The tours are very reasonably priced and the addition of seeing the varied ecosystem as well as experiencing high speed on the water makes these tours exceptional value for money.
Visit their website or call them on 800-975-9345 or call Cathy on 504-810-4756.
New Orleans swamp tour
Another popular tour operator is New Orleans Tour Center.
Their airboat rides include both large and small airboats to suit your party size.
The best part of the swamp tour is that the boat goes right next to the alligators where your guide will give you a brief history of the alligators of the area.
Visit their website or call them on 504-717-5616.
Maryland
Apparently there is a local airboat owner who is willing to take people out on Chesapeake Bay for a small fee.
Although we couldn't track him down you can find some minor information about him here.
If you decide to take a trip on his boat, or any or one, make sure he is fully insured and registered or you won't be covered if you have an accident.
If anyone knows his name be sure to let us know.
Minnesota
Northern Thriller Airboat Tours operates on Deer River, Minnesota.
You can contact them on their Facebook page here.
Mississippi
The Gator Ranch of Mississippi is renowned for their airboat tours.
You'll see alligators and a host of wildlife. Their tours are both educational and fun.
Visit their website or call them on 228-475-6026.
Nebraska
Nebraska also comes in strong on your list with 2 different airboat tour operators making the cut.
Bryson's Airboat Tours
Bryson's Airboat Tours offer very reasonably priced airboat rides on the Platte River.
Up to 11 people at a time can fit on this super fast customized airboat. Speeds of up to 60 mph mean you get an exciting ride every time.
Visit Bryson's Airboat Tours website or call them on 402-968-8534
River Life Tours
River Life Tours is another Nebraska company that offers great airboat rides along the Platte river. Child friendly and great for families.
Visit their website or call Kyle on 402-699-4489.
New Jersey
Airboat Adventures located at 1001 Ocean Drive, Wildwood Crest, NJ 08260 offer airboat rides near Wildwood, NJ.
The ride will let you see a lot of wildlife and learn a bit about about the waterways.
Their website is not currently working but you can contact them, on their Facebook page here.
North Carolina
Outer Banks Adventures call themselves The Home of North Carolina's "Best Airboat Adventure" and they can can themselves that because they are!
Although they offer a varied range of water activities their airboat tours are fantastic.
They offer 4 different airboat tours ranging from 30 minutes to half day tours.
They also operate in Virginia.
Visit their website or call them on 757-871-6402.
Ohio
Air 1 airboats will take you on a 30 – 40 minute tour of Lake Erie, and the Sandusky Bay.
The great thing about Air 1 airboats is that they not only offer water airboat rides but you can go ice fishing on an airboat in the winter so you get to experience high speeds across the ice.
Visit their website or call Tony on 419-366-8472.
Oklahoma
Burks Whitetails offer airboat tours and airboat bowfishing trips along Red River and in Lake Texoma.
They are a little more expensive than the national average but if you want an airboat ride in Oklahoma they are the only "horse in town".
They are only 1 of a few airboat operators that offer bowfishing facilities.
Visit their website or call Clay on 214-212-0491.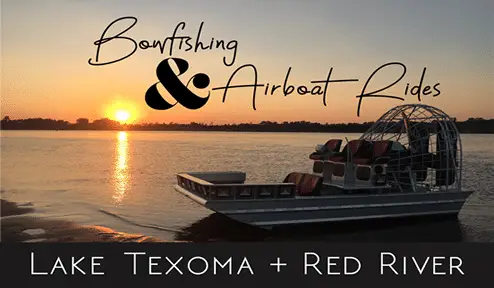 Oregon
Airboat Tours Northwest offer airboat rides along the Willamette River and Suislaw River.
Expect to see biodiverse grasslands, and the beautiful town of Florence on the Oregon Coast.
Prices are super cheap coming in at about half the price of the national average.
Be sure to check their festivals page to see if there are any upcoming events in the surrounding area. Their tours are geared to incorporate any festivals going on at the time.
Visit their website or call them on 800-252-0975.
Pennsylvania
D&M Airboat And Charter Fishing Trips offer airboat rides along the Susquehanna river.
Your captain is knows a lot about the area, and the river, so expect to leave with more than just great memories as you'll be a little more knowledgeable.
Visit their Facebook page or call them on  607-725-0799.
South Carolina
Plantation River Cruises offer a truly unique type of airboat ride. Not only do you get to experience the thrill of fast-paced boating and an amazing array of wildlife but you also get to see some old plantation houses located just off the the Waccamaw, Black and Pee Dee Rivers.
Along the ride you'll see rice plantations, trunk gates, slave cabins, moss-laden oak trees, alligators, eagles and osprey.
If you want a narrator, who is a local historian, to talk through the history, mystery and legends of the Rice Plantations you will need to take a cruise instead of an airboat.
Vitis their website or call them on.843-651-2994.
South Dakota
Ken's Airboat Service LLC is situated in Aberdeen South Dakota. He offers rides on his Air Ranger airboat along the Moccasin Creek river.
The boat can reach speeds of 55 mph.
Visit the website or call Ken on 605-283-2231 or 605-530-2430.
Tennessee
Airboat Nashville will let you see the home of Country Music like you never could on land.
Airboat Nashville are currently the only coast guard certified airboat operators in the area so you know you are in safe hands.
The company state that they offer 3 tours but we found that only 2 were available.
Visit their website or call them on 615-257-1177.
Texas
Believe it or not we have 3 great offerings for you from the Lone Star State.
Orange
Dragon Lady Airboats offers a great experience especially for families. The company got it's name from The Dragon Lady herself – Captain Sallie Hayne who has many years airboating experience and an extensive knowledge of the swamp area.
On your 1 hour 30 minute tour through the Blue Elbow Swamp, Sabine River and surrounding estuaries of Orange, TX you will likely see alligators, turtles, nutria, hogs, deer, raccoon and a vast array of birds.
The only drawback to these tours is that you have to book the entire boat rather just just seats. This means it can be an expensive lump sum payment. As 6 people fit on the boat the price per seat comes out at just above the national average, however you are getting 3 times the boating time. So it's a pretty good deal.
Visit their website or call them on 321-266-1498.
Galveston
With Galveston Boat Tours you can expect to see Stingrays, Oyster beds and a myriad of wildlife on Galveston Island.
You will have the opportunity to fish or bowfish if you desire.
Visit their website or call them on 409-632-0089.
Utah
Utah has a large airboat owners market but does not seem to offer an airboat rides for paying customers. This is a shame as imagine speeding down The Great Lake in an airboat.
Again we believe there is a huge opportunity going to waste in this state.
Virginia
Although Outer Banks Adventures term themselves The Home of North Carolina's "Best Airboat Adventure" they also operate in Poquoson, Virginia.
Although they offer a varied rage of water activities their airboat tours are fantastic.
They offer 4 different airboat tours ranging from 30 minutes to half day tours.
As you may have guessed, they also operate in North Carolina.
Visit their website or Facebook page or call them on 757-871-6402.
West Virginia
This amazing airboat tour, From Hartfeld & McCoy Boat Tours, starts in Matewan, West Virginia.
Matewan is a small town nestled in the Tug River Valley, which has a very rich history. Once a coal mining town it has ties to the past through the infamous Hatfield's & McCoy's and the Matewan Massacre.
Tours last about 1 hour where you get to experience a fast exhilarating ride down the Tug River while you enjoy the natural beauty of West Virginia.
This region of southern West Virginia contains a diverse ecosystem of trees, birds, small game and other wildlife.
Visit their website or call them on (304) 235-9090 or (304) 928-7702.
I would like to, once again, ask all our readers to contact us if they know of other airboat rides available in states that we have not mentioned. Either leave a comment or use the contact us form. We will be most grateful and give you a mention.
Thank you.